by HomeAbroad Editorial Team

·
11 min read
Investing in the Sunshine State of Florida's housing market can be unpredictable due to factors such as inflation and the global economy, but staying updated on recent developments and analyzing market trends can help you make informed decisions and feel confident about your financial future.
Let's dive in and get started!
20 Statistics Florida Housing Market 2023
Median Sale Price
1. The median price increased to $389,990, up 6.1% from last year.
2. Homes sold decreased by 35.4% compared to the same period last year.
3. Homes spent an average of 53 days on the market, 21 days longer than last year.
4. The median sale price rose to $395,000, up 3.5% from the previous month.
5. Experts predict a 4% decline in median sale price growth for 2023.
6. Sale-to-list price ratio was 95.3%, down 4.7% from last year.
Number Of Houses Up For Sale
7. 138,803 houses were for sale, up 36.1% from the previous month.
8. Active listings of property decreased by 7.4% from last year to 38,722.
9. Average supply is now 5 months, up by 3 months from last year.
10. Home sales decreased by 24.8% YoY.
11. 26,978 residences sold this month vs. 35,858 sold last year.
12. More homes available and less competition, making it a good time for buyers.
Closed Sale
13. The number of sales transactions that closed during the month.
14. Sales of single-family homes decreased in January and February 2023.
15. January 2023: sales decreased by 32.5%compared to last year.
16. February 2023: sales decreased by 21.3% compared to last year.
Sales In Cash
17. Cash buyers decreased in January and February 2023.
18. January 2023: cash buyers decreased by 35.7% compared to the previous year.
19. February 2023: cash buyers decreased by 27.2% compared to the previous year.
20. Fewer investors are buying homes with cash during these months.
Data Source: Florida Realtors
10+ Key Statistics of the Florida Housing Market 2022
Below are statistics for the single-family Florida housing market for the preceding year.
Sales of Single-Family Housing in Florida
In 2022, there was an 18% decrease in sales transactions in Florida compared to the previous year.
Cash transactions accounted for 32% of closed sales, indicating investor activity in the housing market.
Most price ranges saw a decrease in home sales, but the $400,000-$599,999 range had the highest number of closed transactions.
The $300,000-$399,999 range was the second highest in closed transactions, with 43,683 sales.
In 2022, there were 92,051 completed sales exclusively in cash, which was a 12% decrease from the previous year.
Prices of Single-Family Housing in Florida
Median sale price of single-family housing in Florida for the year: $402,500 (up 15.7% from last year).
Average sale price for the month: $562,442 (up 11.3% from last year)
Total sale price for all sales in the month: $161.6 billion (price drops 8.7% from last year)
Median percentage of original list price received in 2022: 100.0% (same as 2021)
Housing Supply in Florida
Number of new listings added to the housing market in Florida throughout the year: 366,296 (a 3.0% decrease from last year)
Number of active housing inventory at the end of the year: 65,786 (a 116.8% increase from last year)
Months' worth of housing supply in Florida: 2.7 (a 170% increase from last year)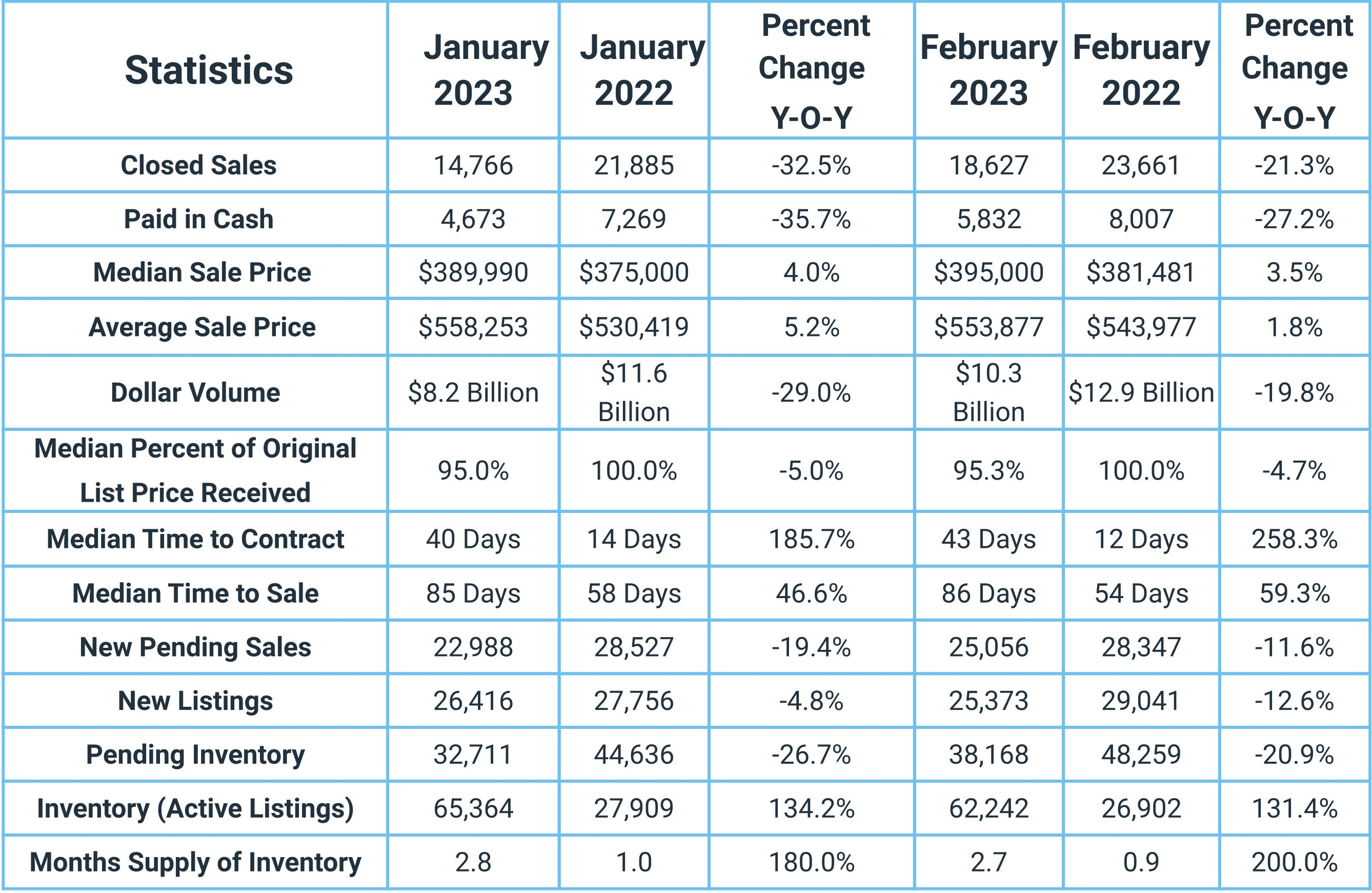 Florida Real Estate Market 2023
Florida's home sales market is influenced by economic expansion, job creation, population growth, and interest rates.
A surge in people moving to Florida from other states increased the housing demand.
COVID-19 led to an increased preference for bigger homes with offices and outdoor spaces.
Demand for second and holiday homes increased, especially in warm climate regions with outdoor recreation options.
Economic, demographic, and societal factors will continue to affect the Florida real estate market.
To stay informed about market trends, work with experienced real estate professionals.
Florida Housing Market Trends 2023
National inflation hit a multi-decade high of 7.9% but has since dropped to 7.7%.
Buyers have more bargaining power due to the increased number of homes for sale and fewer buyers.
Statewide house sales are decreasing, but home prices are increasing due to low supply and high demand.
Homeowners are experiencing the burden of steady price increases and high mortgage rates.
Inflation and high mortgage rates may challenge some Americans to purchase homes in Florida.
Real estate is generally a good investment during inflation, and housing prices typically rise alongside inflation in Florida.
Recent drop in inflation has led to a slight decrease in housing expenses.
Overall housing costs in 2023 are expected to be higher than in 2022.
Florida Housing Market 2022-2023
Positive economic trends in Florida's real estate market are boosting optimism among buyers and sellers.
Fourth-quarter GDP data, decreasing inflation, rising employment, and stabilizing interest rates contribute to this positivity.
Continued tourism and rising food prices suggest a thriving economy in 2023, which is good news for the housing market.
Sales activity increased in December, with condo sales up by 600 units and home sales up by 2100 units.
Median home prices rose 5.6% from $373,990 to $395,000 in December, while condo and townhome prices increased by 8.8% yearly to $310,000.
Predictions, according to Florida Realtors, of a housing slowdown in Florida are losing steam, aligning with trends in other US real estate markets.
What are the Florida Housing Market Predictions for 2023?
1. "We expect the state's residential real estate market to return to a more typical pace. I believe 2023 will look more like the 'traditional' housing market years of 2018–2019 in Florida as supply and demand become more balanced."
Florida Realtors® Chief Economist Brad O'Connor
2. A housing market crash in Florida or anywhere else is unlikely to happen soon.
3. The inflation rate is slowly declining, but it is not showing any signs of reaching pre-pandemic levels yet. High inflation can and will continue to affect Florida's real estate market.

4. The average home value price in Florida is $383,063 (Mar 2023), up by 8.2% from last year, becoming a promising market for investors.
5. "We are going to see some relaxing or easing in prices, but we're not going to see a great drop unless or until we see more supply available," Florida Realtors® Chief Economist Brad O'Connor
6. Morning Consult Chief Economist John Leer said. "Buyers are still waiting in the wings, interested in purchasing a home as soon as they're able to do so financially."
7. Some markets, specifically in South Florida, are expected to see a 3.4% price increase in 2023.
Florida Real Estate Forecast: What to Expect from Florida's Housing Market in the Next 5 Years
Florida housing market saw an 80% rise in housing market prices in the past 5 years.
Growth is expected to decline due to increasing mortgage rates.
This will lead to delayed purchases by potential home-buyers and a decrease in the demand for housing.
Experts predict a decrease in the growth rate of home values.
U.S. News and World Report predict no change in the average median home sales price from now and a drop in mortgage rates to 4.5% by 2027.
Long-term predictions are challenging to make and should be taken with a grain of salt.
10 Years of Florida Real Estate Progression Rates
Over the past decade, Florida's real estate market has seen significant growth, with a 282.35% increase in housing prices and an annual appreciation rate of 6.14%.
Due to low supply and high demand, Florida's housing market has experienced a 53.28% increase in home values between 2020 Q3 and 2022 Q3.
In the last 12 months (2021 Q3 – 2022 Q3), Florida's home appreciation rates have remained high at 26.35%.
FL's quarterly appreciation rate between 2022 Q2 – 2022 Q3 was 4.36%, which equates to an annual appreciation rate of 18.60%.
Rising mortgage rates are driving many buyers out of the market, which could present opportunities for those staying in, and also moderate the appreciation rate over the next 12 months.
The average rate for a 30-year fixed-rate mortgage decreased by 16 basis points to 6.32% in the week ending on April 4.
According to research from Florida Atlantic University, the housing market in Tampa Bay is overpriced.
Lakeland ranks 12th nationally, with homes overvalued by 53.2%, while North Port-Sarasota-Bradenton ranks 17th nationally, with homes overvalued by 48.9%.
Top 10 Overpriced Housing Markets in Florida (By Moody's Analytics)
Council for Community and Economic Research's Cost of Living Index lists Florida's top 10 overpriced housing markets as of late 2022.
Sarasota
Miami
Fort Lauderdale
Homosassa Springs
Palm Bay-Melbourne-Titusville
Punta Gorda, Vero Beach-Sebastian
Port St. Lucie
Crestview-Fort Walton Beach-Destin
Cape Coral-Fort Myers
High property prices rise in Florida and may challenge middle-to-low-income individuals and first-time home-buyers to afford homes.
The difficulty in affordability may have long-term impacts on homeownership and limit potential profits for homeowners when the market slows down.
Homeowners may face challenges when upgrading to more expensive properties or using their home's equity to fund their expenses.
Budget-Friendly Florida Neighborhoods: Where Can You Live Affordably?
Palm Coast-Flagler County, Ocala, and Jacksonville are affordable places to live in Florida.
These areas have a lower cost of living compared to the US national average.
The information is based on the Cost of Living Index by the Council for Community and Economic Research.
Florida's Hottest Real Estate Markets: Top 5 Metros with the Fastest Growing Sales Prices
Coral Gables leads the pack with a staggering 87.2% YoY growth in real estate sales prices.
Winter Park comes in second place with a growth rate of 56.2%
Margate, Altamonte Springs, and Miramar Beach also have attractive growth rates ranging from 34.6% to 43.8%
These cities offer great investment opportunities for buyers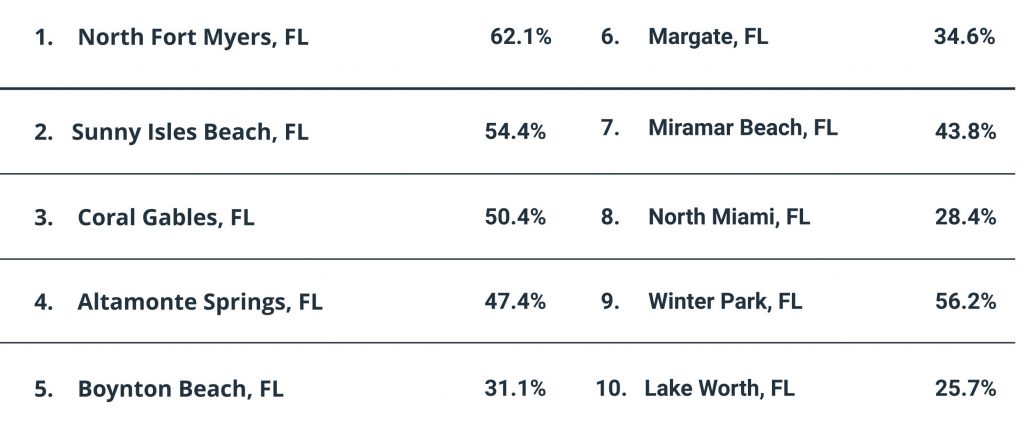 Are home prices in Florida Dropping or Increasing in 2023?
Florida's median home price peaked at $420,000 in February 2022.
Median sale prices for single-family homes dropped to $412,303 by July 2022 and$401,990 by October 2022. The housing market is correcting after years of high prices, but slowly.
The Federal Reserve's interest rate increases to curb inflation have affected the housing market.
Higher mortgage rates have made it challenging for buyers and sellers but could lead to a more balanced and stable market.
Property prices are expected to continue dropping in many Florida cities until 2023.
In February, the South saw a 15.9%growth in existing-home sales to an annual rate of 2.11 million, which was still a 21.3% drop compared to the previous year.
The median sale prices for homes in the region rose by 2.7% from the previous year, reaching $342,000.
Some South Florida communities could anticipate a 3.4% price increase in 2023.
Home values in Miami surged by 18.4% over the year ending in November, with Tampa Bay following closely with a 16.9% jump.
In comparison, the national average increase was only 7.7%.
Sell Your Home Now or Wait? Making the Right Decision in the Florida Real Estate Market.
When deciding whether to buy or sell a home, focus on your individual financial situation.
If you're buying, make sure you have your finances in order, including being debt-free, having an emergency fund, and saving for a down payment.
If you're selling, ensure you can afford the move and that it won't harm your financial stability.
Consider selling if you need to relocate, upsize, or downsize.
If you're in a high-priced market, it may be a good time to sell before prices potentially decrease.
As of late March, the interest rates on mortgages have increased after a brief period of decline and are now at 6.66 percent.
Take advantage of the current low mortgage rates if you're considering buying, as they may increase in the future.
What's Impacting the US Housing Market? Understanding the Key Factors.
The Big Four: Understanding the Key Factors That Impact Real Estate Housing Market Prices.
Mortgage Rates: Mortgage rates affect home buying ability, especially for lower-income buyers and those with average credit scores.
Economic Overview: Economic indicators such as GDP, employment rates, and prices of goods have a significant impact on the Florida housing supply.
The Impact of Demographics on the Housing Market: Demographics, including age, race, gender, income, migration patterns, and growth, can significantly affect housing market trends in the long run.
Government Policies and Real Estate Market Impact: Government incentives like tax credits, deductions, and subsidies can significantly affect the demand for real estate.
Florida's Housing Crash: What You Need to Know
Despite the pandemic's impact on population growth, Florida remains the fastest-growing state in the US, with over 22 million people.
Florida's population growth drives up housing demand, leading to higher prices due to limited supply.
Stricter lending laws and improved credit scores make Florida's housing market stable and less likely to crash compared to 2008.
Homeowners have high equity due to rising home values.
The Federal Reserve's withdrawal of pandemic support could have adverse effects on the housing market.
This could potentially lead to a housing market collapse in the next 18-24 months as efforts to combat inflation intensifies.
Over 20% of Florida's metropolitan regions are overpriced, with coastal areas being the most overpriced, according to Moody's Analytics.
Exploring Florida's Real Estate Investment Appeal: Why the Sunshine State Shines Bright
Booming population
Thriving job market
Tourist appeal
Affordable real estate
Tax benefits
Diverse economy
The attraction of Florida's warmth, sunshine, beaches, and water
Availability of larger living spaces
Low mortgage rates
All these factors make Florida a top pick for real estate investment.
Foreign Real Estate Investment in Florida
Foreign buyers prefer Florida the most, accounting for 24% of the market share, with an increase in Canadian buyers contributing to this.
Among Canadian, Mexican, and Colombian buyers, Florida remains the top state destination.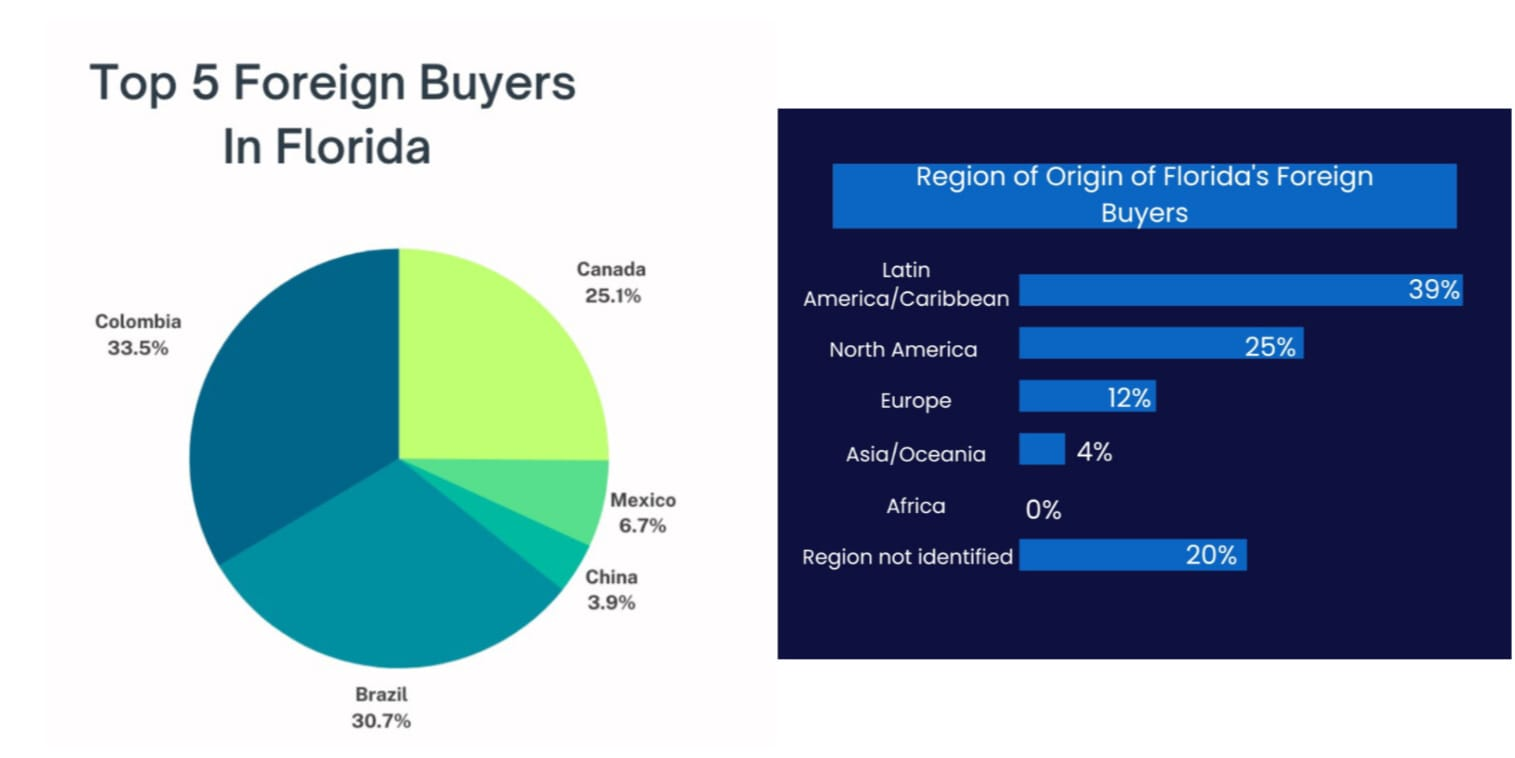 Florida's Housing Market Compared to National housing market Trends 2023
Florida's home listing prices increased by 9.1% from the end of 2021 to the end of 2022.
This growth is less compared to the top three states with the highest home price increases: Nebraska, Wyoming, and Kansas.
31 states saw more growth in median listing prices, while 18 states saw less growth.
Florida's housing market growth is slower than the national average.
Conclusion
In conclusion, acting fast, researching thoroughly, and managing risks are critical for success in Florida's real estate market. Despite the anticipated early 2023 decline, there is potential for a rebound in housing prices driven by favorable weather and investor confidence. Addressing high real estate costs is crucial, but the market offers ample opportunities for growth and investment with the right approach.
FAQs
Q1. Is 2023 a good time to buy a house in Florida?
Yes, 2023 is a promising year to invest in real estate, but buyers may need to either expand their options or wait for better interest rates to successfully purchase a home.
Q2. What are the real estate housing market 2023 predictions?
Florida housing market predictions as per The Chief Economist of NAR predicts that mortgage rates will rise in 2023 but will likely return to 5.5% to 6% within two years. Furthermore, he expects home prices to rise by 15% to 25% over the next five years. There is a possibility that the housing market may shift to favor buyers in the upcoming year.
Q3.Is the housing market going to crash in Florida?
Based on the insights of housing economists, it is unlikely that the real estate market in Florida will experience a crash. The reasons behind this projection include low inventory, limited availability of newly constructed housing, a growing number of potential buyers, stringent lending standards, and a decrease in foreclosures. Is the housing market going to crash in Florida?
Q4.Will Florida Home Prices Drop In the 2023 Recession?
In 2023's second quarter, Florida's median sale price is predicted to rise by 8.08%, but this is a 2.5% decline from the preceding year, as stated by the National Association of Realtors (NAR) specialists. Despite economic uncertainty and high mortgage rates, the housing market is expected to remain active and grow during this period.
Q5.Where is the cheapest housing market in Florida?
The most affordable place to live in Florida is Cape Coral. Durban. Fort Walton beaches. Lakelands. Vero Beach.
Q6. What are the housing market rates in Florida?
Jacksonville mortgage overview. The current interest rate in Miami is 68% for 30-year fixed loans and 6.14% for 30-year mortgages. Check your mortgage options in advance!
Q7. What is the trend in Florida real estate in 2023?
The Florida housing market is expected to remain robust in 2023, driven by sustained demand and consistent price growth. Nevertheless, as the growth rate gradually slows down, the market may become more stable, leading to a more equitable balance between buyers and sellers.
Q8. Is the South Florida housing market slowing down?
Month-by-month sales prices have continued to fall. In Miami-Dade, median sales prices fell from $555K in October 2022 for single-family houses to $395k in November 2022 for condominiums.
Q9. What causes housing prices to fall?
Two prominent reasons cause housing prices to fall.
1. Higher mortgage rates make mortgages more expensive, reducing affordability for buyers and causing demand for housing to decrease. As a result, home prices fall.
2. An economic downturn reduces disposable income and job opportunities and increases unemployment, leading to decreased demand for housing and a subsequent drop in home prices.
Q10. Are real estate prices expected to drop in Florida?
2023, Florida's real estate industry is anticipated to maintain its strength. As the growth rate gradually slows down, the market may stabilize, leading to more balanced conditions for both buyers and sellers.

About the authors:
The Editorial Team at HomeAbroad is comprised of subject matter experts who are real estate professionals, mortgage advisors, content experts and research associates.
Our editorial team has expertise in a wide variety of topics that include
read more…