by Amresh Singh

·
12 min read
Are you planning on buying an investment property in North Carolina? Well, now is the right time. Why? Because in March 2023, home prices in North Carolina went up by 3.3% compared to last year and are expected to soar higher over the next year. You can grab this golden opportunity and earn a handsome monthly rental income with the help of a DSCR loan in North Carolina easily and quickly.
Today, we will discuss how you can buy an investment property in North Carolina swiftly and timely with the help of DSCR Loan North Carolina. 
What is North Carolina DSCR Loan?
To understand what a North Carolina DSCR loan is, knowing what it stands for is essential. DSCR refers to Debt Service Coverage Ratio, financial metric lenders use to evaluate a borrower's ability to repay a loan through a property's cash flow.
How does it work? 
In a DSCR loan, the lender considers the property's positive cash flow to determine the borrower's ability to make the monthly repayments. 
The mortgage lender usually calculates the DSCR by dividing the net operating income of the property by its debt service, which includes principal and interest payments on the loan.
  DSCR = Net Operating Income / Total Debt Service
If the resulting DSCR is 1 or more, the borrower is considered worthy of a DSCR loan, and the lender will approve the loan with a 20% to 25% down payment. 
However, if the DSCR is lower than 1, lenders may ask for a larger down payment deposit, and a higher interest rate will be charged to compensate for the increased risk.
How to Calculate DSCR Loan, North Carolina?
To calculate DSCR, follow these steps:
Determine the property's net operating income (NOI). This is the income generated by the property minus its operating expenses, such as taxes, insurance, maintenance, and repairs. (Net Operating Income (NOI) = Rental income – operating expenses – vacancy loss)
Divide the NOI by the total debt service to get the DSCR.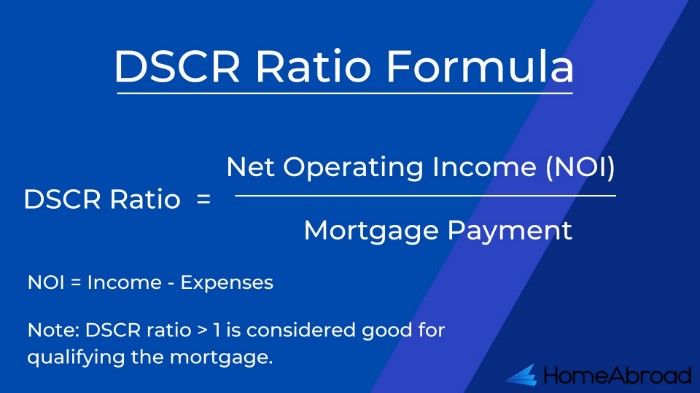 For example:
Let's say you want to calculate the DSCR for an investment property in North Carolina with an NOI of $100,000 and a total debt service of $80,000.
DSCR = NOI / Total debt service
DSCR = $100,000 / $60,000
DSCR = 1.67
In this case, the DSCR is 1.67, which means the property's income is 1.67 times the amount of the debt service, indicating a good ability to repay the loan. Lenders generally require a DSCR of 1 or more to approve the loan. Some mortgage lenders may also finance the property with a lesser DSCR; however, it will have a higher down payment and interest rates.
Benefits of DSCR Loan in North Carolina
DSCR loans offer great flexibility, providing real estate investors alternative ways to fund their projects. Here are the three main benefits of DSCR loans:
Personal income not considered: A significant advantage of DSCR loans is that lenders do not require employment verification, proof of income, or tax returns from the borrower. Instead, they only consider the positive cash flow generated by the subject property.
Quicker closing times: Unlike traditional loans, the DSCR loan process skips steps such as examining paystubs and conducting background checks for employment history. This results in a faster closing time.
Ability to commit to multiple properties: Unlike traditional loans that require a one-time commitment to a single property, DSCR loans allow borrowers to purchase different properties. This enables investors to scale their investment portfolios faster.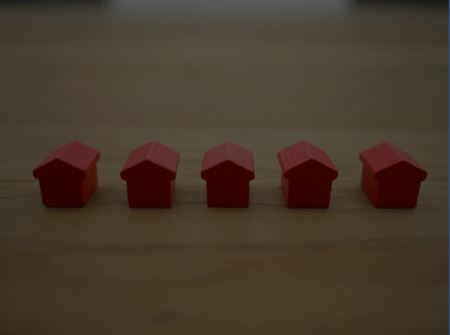 Connect with the Best DSCR Lenders
Get quotes from multiple lenders to compare and pick the best one!
Who Can Apply for DSCR Loan in North Carolina?
Anyone who wants to skip the tedious loan approvals and documentation procedure may opt for a DSCR loan.
Real estate investors: Individuals who invest in properties for rental income or capital appreciation can apply for DSCR loans. These investors may own rental, multi-unit, or commercial properties.
Small business owners: Small business owners who operate out of their properties, such as retail stores, restaurants, or offices, can also apply for DSCR loans. These loans can help cover the cost of purchasing or renovating the property.
Landlords: Individuals who own rental properties and generate income from them can apply for DSCR loans to finance the purchase or renovation of additional properties.
Self-Employed Individuals: DSCR loans are an excellent way for self-employed people to finance their investment property without providing personal income or employment verification.
Therefore if you are looking for funding to buy a rental property in North Carolina, consider applying for a DSCR loan in North Carolina at the earliest. HomeAbroad has a vast network of highly experienced and reliable DSCR lenders. To connect with them for free, reach out to HomeAbroad!
DSCR Loan North Carolina Requirements
The qualifications for obtaining a DSCR loan in North Carolina can vary depending on the lender and the type of financed property. However, there are some general requirements that borrowers will typically need to fulfill to be eligible for a DSCR loan in North Carolina:
1. Good credit score:
To be eligible for a DSCR loan, borrowers typically need a credit score of at least 620; the specific score requirement may vary based on the lender and property type.
2. Positive cash flow: 
In order to ensure that the borrower can fulfill their debt obligations, the financed property must exhibit a positive cash flow. 
Lenders usually compute the property's Debt Service Coverage Ratio (DSCR) to evaluate whether the cash flow is adequate to cover loan repayments.
3. Property documentation:
Borrowers must provide financial statements and appraisals to demonstrate that the property can generate a DSCR of 1 or higher.
4. Property Appraisal: 
The appraiser utilizes Fannie Mae form 1007 to gauge the possible rental income of the investment property. 
This form contains a rent schedule that determines the property's market rent. By doing so, the appraiser can authenticate the expected rental income of the property in the future.
5. Down payment: 
Borrowers typically need to make a down payment of 20% to 25% on a DSCR of 1 or higher.
However, few lenders may finance the property even if the DSCR is below 1, with a relatively larger down payment and higher interest rates on the financed property.
It is important to note that borrowers should compare the offers from multiple lenders to find the best terms and rates for their needs. HomeAbroad has a vast network of mortgage lenders who can easily assist investors in purchasing their desired investment property. To connect with them, reach out to us now!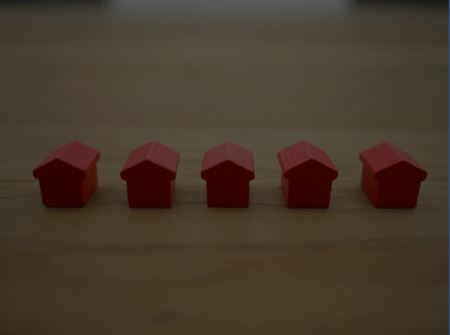 Compare Rates from Best DSCR Lenders
Get pre-qualified for Investor Cash Flow Mortgage based on potential rental income
What is the Minimum DSCR Required for DSCR Loans in North Carolina?
To qualify for DSCR rental property financing, investors usually require a minimum DSCR of 1 or above. The precise criteria can differ from one lender to another. Thus, it is essential to research and compares different lenders' requirements before initiating a loan application.
How To Apply for DSCR Loan in North Carolina?
Applying for a DSCR loan in North Carolina is relatively easy and hassle-free. All you need to do is follow these 8 easy steps.
Step1: Find a Profitable Property
The first step is to find the right property that has the ability to generate positive cash flow.
A right property should churn a DSCR of 1 or greater than 1. 
HomeAbroad can help you connect with the most experienced real estate agents who can help you find the right property to get approved for the loan.
Step 2: Shop for the Right Lender
It is essential to find a lender who specializes in DSCR loans. You should request quotes from multiple lenders and compare their terms and conditions to help you decide which one to work with.
HomeAbroad can assist you in connecting with top DSCR lenders in North Carolina.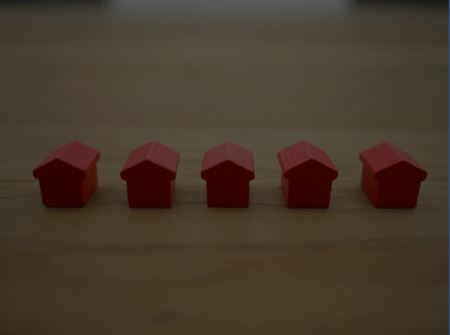 Connect with the Best DSCR Lenders
Get quotes from multiple lenders to compare and pick the best one!
Step 3: Estimate of Income from Property
In order to qualify for a DSCR loan in North Carolina, the borrower must furnish proof of prospective income generated from the property. 
This encompasses submitting a predicted rent roll, a cash flow statement projection, and other relevant paperwork substantiating the property's financial feasibility as an investment.
Step 4: Apply for the loan
Once a lender has been chosen, the subsequent action is to request a loan by filling out an application form and providing all essential documentation. 
The necessary paperwork typically includes a property appraisal report and an estimated debt service coverage ratio.
Step 5: 1007 Rent Schedule
The 1007 Rent Schedule is a form used in the mortgage industry to document the rental income of an investment property. This form aims to help lenders determine the cash flow of a property and assess the borrower's ability to repay the loan.
The 1007 Rent Schedule typically includes information such as the total monthly rental income, the number of units in the property, and any expenses associated with the rental property, such as property taxes, insurance, and maintenance costs. 
Step 6: Underwriting
The underwriting team will analyze all qualifying requirements and calculate the DSCR to see if you meet the requirements for the loan. 
The team will issue a pre-approval letter if everything meets the lender's requirements and terms. This is an essential step for obtaining a DSCR loan in North Carolina.
Step 7: Loan Approval
Once the loan is approved, the lender will discuss essential loan details such as monthly payments, interest rates, and closing costs with the borrower. 
 The lender will issue you a loan commitment or pre-qualification letter after reviewing and accepting the loan terms.
Step 8: Closing
Closing a DSCR loan in North Carolina usually takes around 21 days, shorter than the conventional loan procedure, which usually takes 3 to 6 weeks. 
You will have to sign legal documents and pay closing costs during the closing process. Once the loan has been approved, the funds will become available within a few business days.
Once you have followed all these steps, you can obtain a DSCR loan in North Carolina easily and start investing and enjoying returns. With HomeAbroad's help, you can quickly find the best lender for your needs conveniently and for free!
What are the Interest Rates for DSCR mortgages in North Carolina? 
The DSCR loan interest rates are usually higher (1% to 2%) than conventional loans, ranging from 7.5% to 9%. Your interest rate will depend on the lender, the kind of property, your credit score, and your DSCR. So, comparing rates from different lenders is essential to find the best one for you.
However, before we dive into the details of DSCR loans in North Carolina, let's have a quick overview of the housing market in North Carolina for a better understanding of rental income and appreciation prospects.
Overview of the Housing Market in North Carolina
As of March 2023, the median home price in North Carolina was $351,900, reflecting a 3.3% increase from the previous year, making now a perfect time for real estate investors to invest in North Carolina.

Let's walk through the housing market trends of the top 5 metros of North Carolina.
Top 5 Metros for Buying Investment Property
Following are the top 5 metros that are your best bet for buying investment property in North Carolina.
1. Hampstead 
The typical home value in Hampstead stands at $445,932, indicating an increase of 8.3% from the previous year. 
The average rent for an 899sq.ft apartment is $1,532
Additionally, homes in Hampstead go pending within an average of 11 days, which reflects the high demand for properties in the area.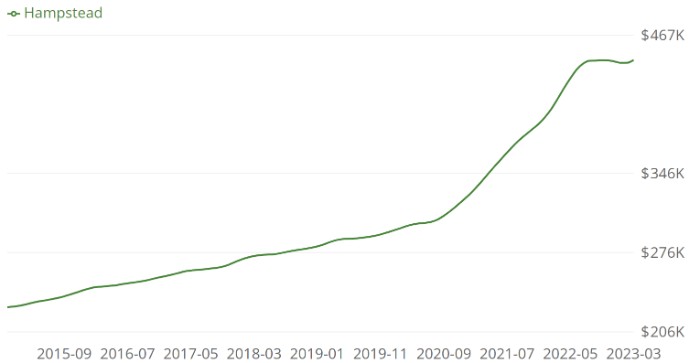 2. Reidsville
The typical home value in Reidsville is $165,445, a 6.7% increase from the previous year. 
The average rent on a rental property in Reidsville is $1,050.
Moreover, properties in Reidsville go pending in approximately 16 days, a testament to the strong demand for homes in the area.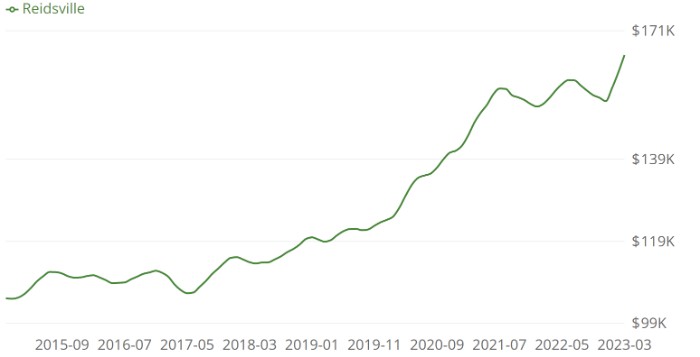 3. Mount Airy
With an average home value of $558,749, Mount Airy's real estate market has experienced a 3.2% increase over the past year. 
The median rent for all property types in Mount Airy is $1,350.
Homes in Mount Airy typically go pending in approximately 10 days, indicating the area's high demand for housing.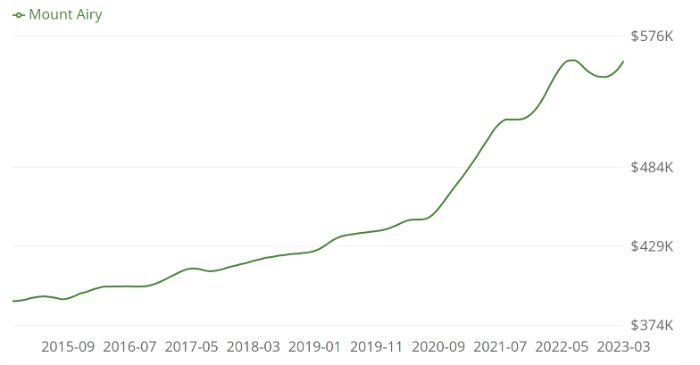 4. Jacksonville
The average home value in Jacksonville currently stands at $227,309, reflecting an impressive increase of 11.9% from the previous year. 
The average monthly rental income is $1,208
Properties in Jacksonville also go to pending in a remarkably short time frame of around 5 days, which is a testament to the robust real estate market in the area.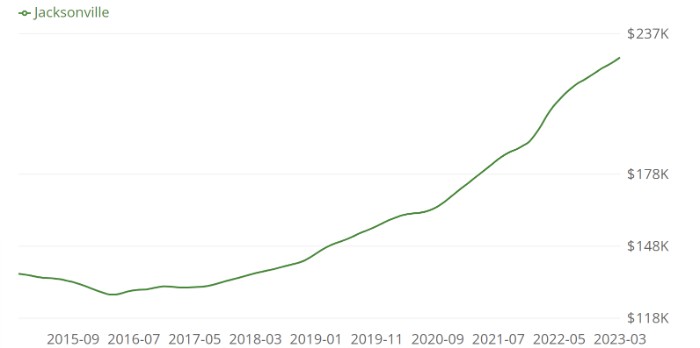 5. Hope Mills
The typical home value in Hope Mills stands at $214,552, indicating a significant increase of 13.5% from the previous year. 
The average rent for an apartment in Hope Mills is $1,275.
Homes in Hope Mills also go pending in around 5 days, underscoring the area's robust real estate market and high property demand.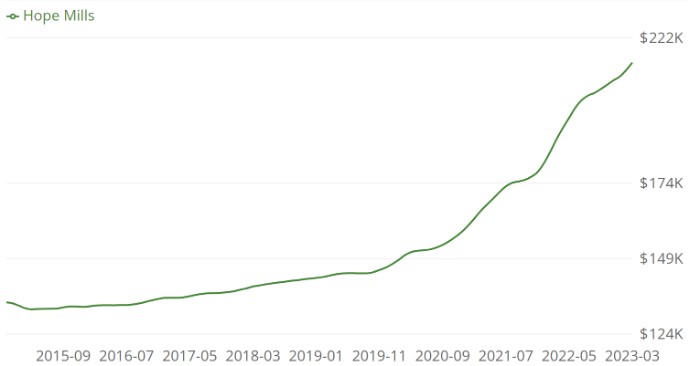 You must have noticed that the housing market in these places is constantly growing, and one can only imagine the extent of returns it promises in the short and long term. DSCR loan in North Carolina is the best option to purchase a rental property quickly.
Tips for Investing In North Carolina Real Estate
Below are some suggestions for real estate investors who are thinking of investing in North Carolina:
1. Conduct Thorough Market Research:
It is essential to understand the current state of the real estate market in North Carolina. You can examine inventory levels, property prices, rental demand, and vacancy rates.
You can also contact HomeAbroad to connect with reputable real estate agents who can guide you.
2. Choose a Profitable Location: 
Look for areas with high growth potential, job opportunities, and strong rental demand.
When choosing a location or neighborhood, consider the local demand for different types of properties such as single-family homes, townhomes, or condos.
Familiarize yourself with the area's inventory demands and supplies to make well-informed decisions.
3. Hire Local Professionals:
Work with experienced real estate professionals such as agents and property managers who understand the pulse of the local market and can guide you through the investment process.
4. Understand the Legal and Regulatory Framework:
Learn about the laws and regulations governing real estate investment in Pennsylvania, including zoning laws, landlord-tenant laws, and property tax regulations.
5. Be Diligent: 
Analyze potential investment properties in detail, including their financial and physical condition and potential for value appreciation.
6. Security Deposit
Landlords may require tenants to provide a security deposit. The amount of the deposit varies depending on the lease agreement's type:
Week-to-week leases: The maximum amount is two weeks' rent.
Month-to-month leases: The maximum amount is 1.5 months' rent.
The security deposit may be up to two months' rent for leases with a higher rent payment frequency. However, state law in North Carolina prohibits security deposits from exceeding two months' rent.
Although the standard amount for security deposits is typically 1.5-2 months' rent, landlords may choose to set a lower amount at their discretion.
7. Prepare for Unexpected Expenses: 
Plan for unforeseen costs like property repairs, vacancies, and property management fees.
Consider local growth and opportunity: Investors should focus on buying investment property in areas with steady growth and multiple job opportunities across various industries, ensuring long-term investment support.
Other Non-QM Mortgage Options
Conclusion
Investing in North Carolina real estate can be a great way to diversify your portfolio and generate long-term returns. However, it is important to understand the local market, regulations, and processes involved before investing.
Allow HomeAbroad to find the best DSCR lender in North Carolina for free, so you can start your investment journey soon.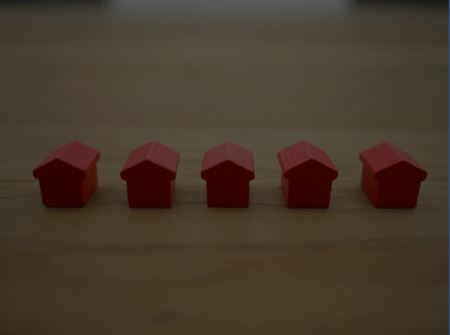 Connect with the Best DSCR Lenders
Get quotes from multiple lenders to compare and pick the best one!
Frequently Asked Questions
1. Do banks give DSCR loans?
No, banks do not give DSCR loans. DSCR loans typically come from private lenders or hard money lenders. Comparing rates from different lenders is important to find the best one.
2. How much must you put down on a DSCR loan?
The down payment on a DSCR loan varies depending on the lender, but typically it is between 20-30% of the total loan amount when the DSCR is 1 or more.
3. Can an individual get a DSCR loan?
Yes. An individual can get a DSCR loan if he or she meets the lender's criteria. However, it is important to note that these loans typically come from private or hard money lenders and have stricter requirements than traditional ones.
4. Is DSCR a hard money loan?
Yes, DSCR loans are a type of hard money loan. A hard money loan is typically a type of short-term loan. The loan is usually based on the property's value rather than the borrower's credit score or income. Hard money loans are typically used for fix-and-flip projects or to bridge financing gaps, and they may come with high-interest rates and fees.
5. What is the typical interest rate for DSCR Loan?
The interest rate for a DSCR loan depends on the lender and the specifics of the loan. Generally, these loans come with 1% to 2% higher-than-traditional interest rates.
6. What credit score do you need for a DSCR loan?
The credit score requirement for a DSCR loan varies depending on the lender. Generally, lenders prefer borrowers with higher credit scores for these types of loans. However, some lenders may still approve an individual with a lower credit score if they have enough equity in the property to cover their down payment and closing costs.
7. What happens if DSCR is not met?
If the Debt Service Coverage Ratio (DSCR) is not met, it indicates that the property's cash flow is insufficient to meet the required loan payments. In such a scenario, lenders may either decline the loan application or approve it with a higher interest rate, stricter repayment terms, or a lower loan-to-value (LTV) ratio. Alternatively, borrowers may need to inject additional capital to meet the DSCR requirement, which could increase their financial risk.
About the author:
Amresh Singh is the founder & CEO of HomeAbroad and has an extensive 12+ years of experience in the financial services and mortgage industry – building business development and product strategy and leading customer strategy
in the financial services industry domain.
Prior to co-founding HomeAbroad, Amresh has worked for one of
read more…