Read Time:
17 Minute, 13 Second

 by HomeAbroad Editorial Team

·
12 min read
The Chicago real estate market is one of the most vibrant markets in the United States. Over the past few years, there has been substantial growth in both residential and commercial real estate in Chicago. The city's market has been one of the most dynamic in the United States, with an average annual appreciation rate of 5.37% over the last decade.
Thinking about putting your money in Chicago's Real Estate Market? Look no further! Dive into this article to better understand the Chicago market and discover what is necessary for a profitable investment in this amazing city!
Chicago Real Estate Market 2023: Statistics
The Chicago area is diverse and thriving, with various neighborhoods to choose from. The housing market has been growing steadily in both residential and commercial sectors. Recent trends in Chicago housing markets have been noted and are worth exploring.
1. Median Home Prices
Due to the COVID-19 pandemic, the real estate and land use sectors have been affected, resulting in changes to the demand and supply of housing in different regions. In January 2023, Chicago's housing market had a higher supply of homes, benefiting buyers, but median housing prices remained stable.
In January 2023, the median home listing price was $329,000, and the median sold home price sat from $285,000 to $296,500. These figures are slightly higher than the ones in 2022 and thus may result in a rise in Chicago real estate appreciation.
Statewide, the sales of homes decreased by 35.3%, and the median prices decreased by 1.5% compared to the previous year.
Though, it is anticipated that by 2025, the housing market will recuperate, and home prices are predicted to increase 1% to 2% above the inflation rate.
Real estate investors can benefit from increasing median home prices in several ways, such as property appreciation, higher rental rates, increased equity, portfolio diversification, and using it as a hedge against inflation.
More buyers are expected to buy homes with their friends and family. Additionally, there will likely be an increase in the use of technologies like 3D printing and factory-built components, enhancing building quality and accelerating construction times.
2. Rental Returns
Chicago has a significant portion of its population living in rental properties, such as condos or multifamily apartments. Thus, investing in rental properties can be lucrative but requires careful research and selection.
Rent prices in Illinois vary, with East Chicago offering affordable options.
The average rent in Chicago is $2,215 for an average apartment size of 750 sq. ft.
However, the average rent price has risen by 17% in the past year.
Last month, the median rent for a one-bedroom apartment in Illinois was $1,289, with Oak Park having the highest rent at$1,930.
East Chicago had the most affordable option at $630.
Data Source: Zumper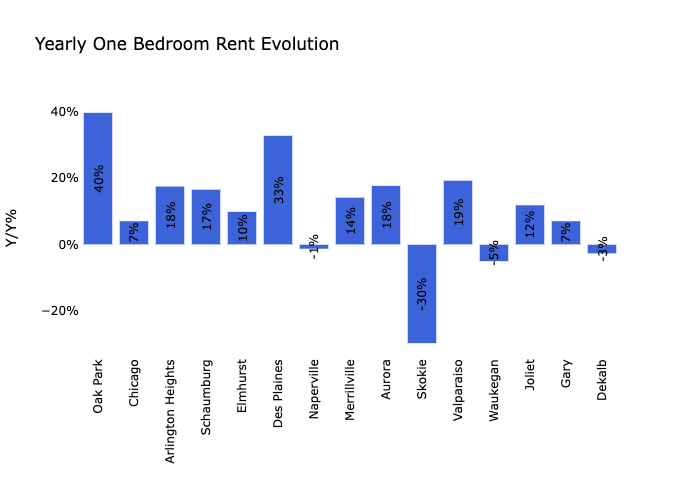 3. Taxation Laws
Property tax rates in Chicago vary by location, with an average of around 6.697% for single-family homes, resulting in tax bills ranging from $2,500 to $6,388.
The housing market in Chicago suburbs has higher tax rates, averaging 9.938% to 13.068%.
On average, the property taxes range from $5,981 to $7,538.
Mayor Lightfoot's $16.4 billion budget for 2023 in Chicago no longer includes a property rate increase, despite the initial proposal of a 2.5% CPI hike.
Thus, the 2023 Tax Rate Report indicates similar property tax rates as 2021.
Data Source: Virtuance
4. Chicago Real Estate Appreciation
Chicago's home price appreciation has been slower than other cities in the country, but its housing inventory has recovered faster. Over the last 10 years, the annual rate of Chicago real estate appreciation has been 4.88%.
Chicago Market Trends 2023 – 24
Investing in real estate comes with a certain level of risk, but it's often possible to minimize that risk by looking at historical trends. By studying past market cycles, price trends, and demand/supply dynamics, investors can gain valuable insight into how the current market might behave.
For example, looking back at Chicago's real estate market, we can see that home prices are cyclical and tend to rise during periods of economic stability. Additionally, certain neighborhoods experience greater appreciation than others due to the presence of desirable amenities or attractions.
1. 34% rise in permit activity
According to the U.S. Census Bureau, last year brought a brighter outlook for the multifamily market. January 2023 showed an extraordinary 34% rise from 690.5 to 922.5 in permit activity compared to 2022's figures, making it one of the best years yet for this particular sector!
According to a forecast by the University of Illinois, the median housing price in Chicago will be $312,900 by December 2023.

2. Chicago boasts 4.29 months of inventory
The Chicago metro area, including Naperville and Elgin, has seen a promising resurgence according to the Chicago housing market forecasts in 2022. In January 2023 alone, the region boasted 4.29 months of inventory – 1.51 more than it had in January 2022, according to Redfin data- while nationally, this figure was 3.2 months, with an increase of 1.71 compared to the year prior!
The annual growth in monthly sales is expected to be between -29.6% and 4.8% in Chicago. In March 2023, the median sale price of houses was $335,000. At the same time, the Sale-to-list price in Chicago is 98.5%.
The median sale price of Single Family Homes: $295,000
The median sale price of Townhouses: $448,000
The median sale price of Condos/Co-ops: $360,000
Data Source: RedFin

3. Rental vacancy rate improved by 1% in January 2023
The rental vacancy rate in January 2023 improved by one percentage point to 5.8%compared to January 2022, indicating a favorable trend in the real estate market. Currently, a single-bedroom apartment can be rented at the price of $1,875 per month in Chicago. The figure is expected to change by 24.5% in 2027, according to U.S. News' Chicago housing market 2023 forecast.

4. Median home prices decreased by 1.7% in January 2023
In January 2023, the median home price in Chicago decreased by 1.7% compared to the previous year, amounting to $285K. According to analysts, even though real estate markets in the U.S. would cool down in 2023, Midwest and East Coast metro areas like Chicago, considered relatively affordable, will still perform reasonably well.
In fact, in the U.S., suburban Lake County is predicted to be the top market that will continue to hold up relatively well in 2023, with Chicago ranked second.


By understanding historical trends in the Chicago market, investors can make more informed decisions when investing and benefit from the rewards of owning a piece of property in one of America's most iconic cities.
Chicago Real Estate Market Forecast
The Chicago real estate market forecast is expected to be strong in the upcoming year. This is because Windy City is a major world financial center with a rich architectural heritage, vibrant city life, and diverse neighborhoods, all of which make it an attractive place to real estate investors or homebuyers.
1. Median Housing Price Forecast
According to forecasts, the housing market in Chicago is anticipated to be a bright spot in the next decade. Median housing prices are expected to increase by 5.6% annually by December 2023. They also anticipate a 22% decrease in total home sales from the previous year, which is mainly due to a drop in sales of existing housing units.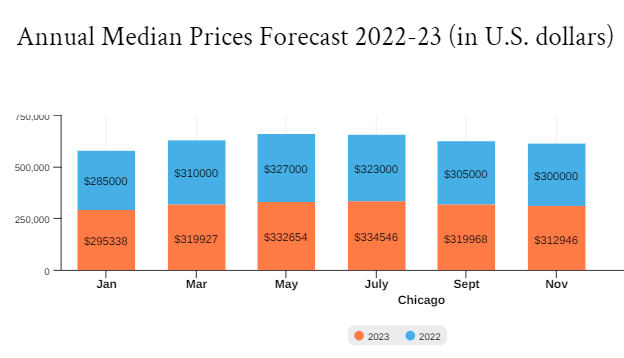 2. Mortgage Rate Forecast
In 2023, the number of new single-family housing units is projected to decrease by 17.5%, and a similar 22.5% decrease is expected in the number of existing housing units. Additionally, Fannie Mae predicts a decrease in mortgage rates from 7.0% to 6.5% between the last quarter of 2022 and 2023.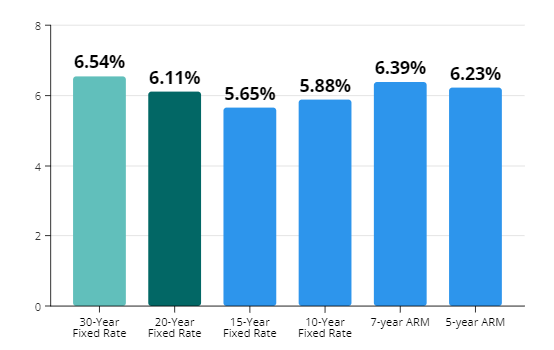 Chicago, IL conforming loans 2023
3. Home Sales Forecast
The sales forecast for the Chicago PMSA expects a yearly decline between -6.1% to -8.2%. However, there is a prediction of a monthly increase between 14.5% to 19.6% in April, May, and June. In March 2023, the pending home sales index, which indicates future sales, decreased in Illinois and the Chicago PMSA compared to last year.
4. Chicago Foreclosure Forecast
In March 2023, there were 1,300 new foreclosures, a 2% decrease from the previous year but a 32% increase from the last month. Currently, there are 3,800 homes undergoing foreclosure.
Over the past 6, 12, and 24 months, the average number of new foreclosures is 627, 747, and 436, respectively, including homes that have already completed the foreclosure process.
5. Home Purchase Sentiment Index
In March, the Fannie Mae Home Purchase Sentiment Index (HPSI) increased by 3.3 points to reach 61.3. The rise is attributed to consumers having a more optimistic view of job security and conditions related to selling their homes, as per the survey results.
With REAL HPI growth rates ranging from 3.5% to 7.7%, it is clear that now is a great time to invest in Chicago real estate market. This index takes into account housing characteristics to construct "baskets" of comparable homes that can be tracked over time.
By leveraging data from the REAL HPI index, individuals looking to invest in the Chicago area can have confidence that they are making a sound decision.
Top 5 Places to Invest In in Chicago
Chicago is a populous city and one of the hottest markets. Thus, it's important to consider the different neighborhoods available. There are a total of 76 neighborhoods, including popular ones like Lakeview, Andersonville, Bronzeville, Bridgeport, Bucktown, Hyde Park, Irving Park, Logan Square, Norridge, Norwood Park, Old Town, South Loop, West Loop, West Town, and Wicker Park.
The city's real estate market is a prime destination for investors who would like to buy where the ROI is going to be high and likely to improve over time. Thus, when looking for the best real estate investments in Chicago, you must focus on affordable neighborhoods with relatively high population density and employment growth.
1. Lincoln Park
This is an upscale neighborhood on the north side of Chicago. It is close to Lake Michigan and is famous for its beautiful parks, excellent schools, and a wide variety of dining, shopping, and entertainment options.
It is a neighborhood that has a mix of residential properties and commercial establishments with a historic charm and stable property values. Although it is the most expensive neighborhood, with a median listing price of $649.9K, it is popular and offers many amenities.
Median home price: $449,000
Average Rent: $1,122
2. Pilsen
Investors find Pilsen in Chicago to be a great option for real estate investment due to several reasons. These include location and accessibility, cultural vibrancy, affordable housing choices, neighborhood regeneration efforts, and diverse community.
Pilsen is located on the Lower West Side and offers a range of investment opportunities such as single-family homes, condos, and apartment buildings, along with family-friendly amenities and schools.
Median home price: $520,000
Average Rent: $2,159
3. Humboldt Park
This is a popular and affordable neighborhood because of its convenient location, revitalization efforts, strong rental market, diverse housing options, and unique cultural character. You'll find a unique blend of old and new buildings, a spacious park for leisure activities, and a lively Puerto Rican community.
It is a smart investment choice because foreclosed and distressed properties are available at an average cost of $300,000. Home prices decreased during the Great Recession but have since gone up, making it an attractive investment opportunity. On average, you can earn $1,700 per month through rental properties.
Median home price:$425,000
Average Rent: $2,247
4. North Side
Investors find the North Side of Chicago an attractive location for investing in real estate due to its diverse neighborhoods, convenient location, robust market, excellent amenities, and lively communities. The area's accessibility to downtown, stable property values, and established infrastructure make it a hot spot for investors.
There are one to two-bedroom condos available for $200,000 in this crowded neighborhood. Moreover, the North Side is a great place to reside as it offers an array of recreational and cultural opportunities to relish.
Additionally, the neighborhoods are known for their diversity and liveliness, making the North Side an attractive destination for those who want a vibrant community. Due to these reasons, investing in real estate on the North Side is a popular choice.
Median home price: $500,000
Average Rent: $2,478
5. West Side
The West Side of Chicago, where the University of Illinois is situated, is a central transportation hub and offers condos that fit the same budget as those on the North Side. The West Side is an ideal place for real estate investments because it provides affordable housing options, good connectivity to downtown, and is undergoing revitalization efforts.
Additionally, the area's cultural heritage and diverse communities make it even more appealing. Notably, it has different housing types available with active listings, and the property values may increase in the future. But, before making any investment decisions, it's important to do proper research and consult a qualified real estate professional for advice.
The median price of homes: $403,250
Average Rent: $2,684
However, to make informed decisions, it is important to consider factors such as population density, employment growth, affordability, and proximity to amenities. Working with a knowledgeable real estate professional and conducting thorough research can be helpful in this regard.
Is Chicago a Buyer's or seller's market?
When buying or selling a property, it's crucial to determine whether you're in a buyer's or seller's market. Chicago's housing market varies depending on factors such as neighborhood and time of year.
The real estate market in Chicago is mostly balanced, but it slightly favors buyers. Here are some things to keep in mind if you're thinking about buying or selling a home in Chicago:
1. Advantages of selling in spring/summer
It's busiest from spring to early summer, which makes it a competitive time to buy or sell homes. Selling a home during this time can lead to higher prices due to high demand.
2. Advantages of buying in winter
Winter months are better for buyers since fewer people are looking to buy homes, which may lead to sellers lowering their prices to attract buyers. This means that buyers could benefit from lower prices while sellers face competition.
3. Interest Rates expected to drop
The high-interest rates ranging from 6% to 7% are expected to drop to about 4% soon. Homes are taking longer to sell, averaging 73 days, compared to last month. However, as per the sales-to-listings ratio (0.14), the Chicago area currently favors buyers, but sellers might have a chance soon.
With promising forecast data that suggests increasing median home prices and a low inventory of homes on the market, it may be a great time for prospective buyers and real estate investors to make their move into this popular region.
Effect of Population Growth on Chicago Housing Market Forecast
Population growth can have a significant impact on the Chicago housing demand in 2023 and beyond. Historically, the city has experienced both population growth and decline, which has affected the demand for housing and property prices. However, in the last decade, the city's population increased by 2.7%.
This trend in population growth is expected to cause an increase in demand for housing. This could lead to higher property prices, as well as an increase in rental prices. Developers may also respond to increased demand by building more properties, which could lead to increased supply in the market.
Overall, population growth in Chicago in 2023 could have a positive impact on the city's housing supply, leading to increased demand, higher property prices, and potentially a more stable real estate market.
Interest Rates and Chicago Real Estate
Interest rates play a crucial role in the Chicago real estate market, affecting everything from the affordability of homes to the stability of the market.
1. Mortgage payments rise by 40%
Over the past 9-12 months, Chicago real estate has been affected by an increase in interest rates. This has caused mortgage payments to rise by 40% compared to last year, making it harder to purchase properties due to an affordability gap.
2. Rising Interest rates
According to experts, the Federal Reserve intends to raise interest rates at its next two meetings. The rates are expected to remain between 5.5% to 6.5% throughout 2023, resulting in reduced home affordability and property demand.
3. Increase in market stability
Increasing interest rates may decrease home affordability and demand, potentially leading to lower property values and higher rental rates. However, it could increase stability and motivate individuals to pay off mortgages faster, reducing the risk of a housing market collapse.
Before making any major acquisitions, potential homebuyers in Chicago need to evaluate their financial circumstances. It's important to keep a close eye on how higher interest rates might affect the real estate market.
Conclusion
U.S News' Housing Market Index forecasts an improvement in approved permits for single-family homes and multifamily units from February to June of this year. Indicators point towards a gradual recovery over 2021, especially in surrounding suburbs, with improved prospects projected by 2024 and chances of real estate appreciation in Chicago shortly.
FAQs
Is it smart to invest in the rental market in Chicago?

Now is a good time for real estate investors and home buyers to take advantage of the rental real estate upswing in Chicago. By doing proper planning and research and using the current favorable conditions, they can make sound investments that have the potential to yield high future returns.

Is the Chicago area housing market highly vulnerable to a recession?

Chicago is still considered one of the most cost-effective big cities in the country for housing. As of January 2023, the median price of a house in Chicago increased slightly by 0.7% and is expected to remain steady.
Experts predict that there will be an increase in house sales and prices within the next 3 months. Therefore, the Chicago housing market is expected to remain one of the top-performing markets in the country.

Will house prices drop in 2023 Illinois?

Illinois's housing market is predicted to nearly reach pre-pandemic levels by 2023. There will be a brief recovery during the spring and summer months, benefitting the home buyers, with monthly sales expected to increase.

What time of year is the cheapest to move to Chicago?

The cheapest time to move to Chicago is between December and February, when moving services experience less demand, resulting in lower prices. Lower rent prices may also be available due to the cold weather and decreased demand. However, moving during winter may be difficult because of snow and icy roads, so weigh the pros and cons before deciding whether to move at this time.

Is it a buyer's market or a seller's market in Chicago?

About the authors:
The Editorial Team at HomeAbroad is comprised of subject matter experts who are real estate professionals, mortgage advisors, content experts and research associates.
Our editorial team has expertise in a wide variety of topics that include
read more…