Read Time:
31 Minute, 18 Second

 by HomeAbroad Editorial Team

·
21 min read
Many Indians aspire to move to the US for better career opportunities, higher education standards, and advanced healthcare facilities. However, the thought of settling in the United States of America can be both thrilling and stressful.
America is recognized for offering opportunities to those who work hard and are determined to achieve success. This article will cover the challenges and opportunities of settling in the USA from India and emphasize the importance of proper planning and guidance throughout the process.
Required Documents for Immigration to the USA from India
When immigrating to the USA from India, there are several important documents that you will need to prepare. While the specific requirements may vary depending on the visa category or immigration pathway you choose, here are some commonly required documents:
A valid passport to serve as your primary identification document
Completely filled the visa application form, depending on your visa type, such as the DS-160 form for nonimmigrant visas or the DS-260 form for immigrant visas
Passport-sized photographs that meet specific requirements, such as size, background color, and pose.
Your Birth Certificate, translated into English and notarized
Marriage Certificate (if applicable) to establish your marital status
Educational documents, such as transcripts, diplomas, or degrees evaluated or translated into English
If you have work experience, you may be required to provide documents such as employment letters, job contracts, or references to verify your professional background
Financial Documents such as bank statements, income tax returns, or other financial documents.
A Police Clearance Certificate or a certificate of good conduct from the relevant authorities in India to demonstrate your criminal record history
Medical Examination Records by a designated physician
Moving India to USA Checklist: Check It Off!
Research and Plan
Research immigration laws and visa requirements
Determine the purpose and duration of your stay
Create a budget for the relocation
Visa Process
Choose the appropriate visa category
Gather required documents and information
Complete the visa application
Schedule an interview at the U.S. Embassy or Consulate
Prepare for the interview
Accommodation
Research housing options
Contact real estate agents or landlords
Arrange temporary accommodation for your arrival
Sign the lease agreement or purchase property
Finances
Open a U.S. bank account
Notify your Indian bank about your move
Transfer funds to your U.S. account
Set up online banking and payment methods
Transportation
Book flights to the U.S.
Consider shipping or selling your belongings
Check transportation options within the U.S.
Apply for an international driving permit
Healthcare
Research healthcare options in the U.S.
Obtain health insurance coverage
Transfer medical records or obtain copies
Legal and Administrative Tasks
Notify relevant Indian authorities about your move
Notify utility companies and settle bills
Update your address with Indian banks, insurance providers, etc.
Obtain required U.S. identification documents (SSN, driver's license)
Why do Indians Want to Settle in the USA?
From professionals seeking lucrative job prospects to students aspiring for a top-notch education and entrepreneurs looking to make their mark, Indians are driven by a multitude of reasons to pursue settlement in the US.
1. Better Career Opportunities
A lot of Indians aspire to work in the USA's technology, engineering, finance, healthcare, and research industries because of the country's reputation for having a large job market and numerous opportunities. Additionally, there are lenient visa programs that allow Indians to reside and work lawfully in the US, which can be beneficial for those who want to enhance their job opportunities or establish their own enterprise.
2. Quality Education
The academic excellence and research opportunities at American universities are renowned globally. Several Indian students aim to pursue higher education in the USA to access top-quality educational institutions, proficient faculties, advanced facilities, and work with international peers.
3. Standard of Living
The USA is known for its high standard of living, offering access to modern infrastructure, well-developed cities, reliable public services, and a wide range of amenities. Indians seeking a comfortable and convenient lifestyle are attracted to the following:
Well-maintained roads
Efficient public transportation
Quality healthcare systems
Diverse range of recreational and cultural activities
4. Economic Stability
The economy of the country is one of the largest and most stable in the world. It provides a favorable environment for businesses and entrepreneurs, attracting Indians who wish to tap into the vast market, explore new opportunities, and benefit from the economic stability and potential for professional growth.
5. Better Future Prospects
For many Indians, moving to the US is seen as a way to ensure a brighter future for both themselves and their families. They desire better living conditions, improved access to healthcare, enhanced educational prospects for their kids, and more diverse job opportunities that can offer long-term financial security and overall prosperity.
The United States is a great place for immigrants from India because it is safe and welcoming. It's also very diverse in terms of culture, religion, race, and ethnicity and offers you the chance to experience a wide range of cultural activities, new opportunities, economic growth, and a better quality of life.
Pre-India to USA Move Checklist: Key Preparations Before Relocating
Planning a relocation to the United States requires careful preparation and organization to ensure a successful transition. Whether you are moving for work, education, or personal reasons, this checklist will help you stay organized and well-prepared, laying the groundwork for a smooth and successful relocation to the US.
1. Research Housing Options
Research housing options in the US considering factors like:
Cost
Location
Safety
Amenities
Proximity to your workplace (or educational institution)
Arrange utility transfers or new connections before your arrival. Finding suitable accommodation is crucial for comfort and settling into the new environment. Conduct online searches, consult real estate agents, and read reviews to make an informed decision.
If you're planning to purchase a house in the US, it's best to collaborate with a real estate agent who specializes in assisting foreign national clients. HomeAbroad can assist you in locating a skilled real estate agent with a CIPS designation to begin your new life in the United States.

Source: HomeAbroad
2. Coordinate Healthcare Coverage
Securing appropriate health insurance coverage is crucial for your well-being while in the USA. Research the healthcare system, insurance options, and providers in your area. Explore different options like:
Employer-sponsored plans
Private insurance
Government programs like Medicaid or Affordable Care Act (ACA)
Further, compare coverage, and understand terms, deductibles, copayments, and limitations. Then, select a plan that suits your needs and budget to ensure access to healthcare services and peace of mind.
3. Manage Immigration and Customs Regulations
Understanding and complying with immigration and customs regulations is vital for a smooth and legal transition to the US. Familiarize yourself with the requirements and procedures set by USCIS and CBP. Ensure you have the necessary visas, passports, and supporting documents. Adhere to visa conditions, maintain proper documentation, and follow immigration guidelines throughout your stay.
4. Plan Your Budget
Budget planning is crucial for financial stability during relocation. Consider expenses like:
Housing
Utilities
Transportation
Groceries
Healthcare
Education
Research the cost of living in your desired location and create a comprehensive budget. Address the needs of family members, including schools and childcare. Identify areas to cut costs and be adaptable to unexpected expenses. A well-planned budget ensures a successful relocation and financial peace of mind.
5. Learn about the Traffic Rules and US metric system
Familiarize yourself with the traffic rules of the USA, as they are stricter than Indian traffic laws, helping you avoid costly fines. Understand the driving laws specific to the state you'll be residing in by studying the driver's handbook provided by the DMV, taking online practice tests, or enrolling in driver's education courses.
Additionally, understand the US metric system, which replaces kilometers, kilos, and degrees Celsius with miles, pounds, and Fahrenheit.
By addressing each item and customizing it to your situation, you ensure a smoother transition and an enjoyable experience in your new home country. Remember to connect with local communities, familiarize yourself with the culture, set up mail forwarding, and consider additional steps based on your circumstances.
Post India to USA Move Checklist: Important Steps After Relocating
After successfully relocating to the USA, it's essential to have a well-structured post-move action plan to ensure a smooth transition and settle into your new life. By following these steps, you can effectively navigate the necessary tasks, setting the foundation for a successful and fulfilling experience in your new home.
1. Update your contact information
After moving to the US, it's important to share your updated address and contact information with the appropriate parties, such as government agencies, banks, employers, and educational institutions. This will help you maintain effective communication, receive important documents and notifications, and prevent any interruptions in services or communication.
2. Understand healthcare and education systems
Familiarize yourself with the healthcare system in the USA, including finding a primary care physician and understanding how health services are accessed. If you have children, research and enroll them in suitable educational institutions.
3. Register for necessary services and connect with local resources
Enroll in local services like public transportation, libraries, and community programs, to better integrate into the community. Registering for these services will provide you with convenient transportation, educational resources, and social events. Moreover, joining local groups and organizations will allow you to meet new people and expand your network, which will help you feel more connected to your new home.
4. Obtain necessary documentation
It's crucial to apply for essential documents like the Social Security Number (SSN) and driver's license for different purposes. The SSN is a unique identifier used to track income taxes and other significant documents, and the driver's license allows you to drive legally in the country. These documents are essential for accessing services, proving your identity, and adhering to legal requirements.
5. Set up financial accounts and Understand taxation requirements
Open a bank account to better manage your finances. This will enable you to deposit and withdraw funds, manage your money, and set up automatic bill payments and savings accounts. Also, become familiar with the U.S. tax system and figure out if you need to file federal and state tax returns, and seek help from a professional if you're unsure. This will keep you compliant and prevent any legal troubles related to taxation.
Taking the time to implement the post-move action plan will greatly contribute to your overall settling process in the USA. Embrace the opportunities and experiences that await you, and don't hesitate to seek support from local resources and communities as you navigate this exciting chapter in your life.
Cost of Living: India vs USA
Living in India is much cheaper than living in the United States, with the average cost of living at $420, which is 81% less expensive than the average cost of living in the US at $2213. However, as per the best countries to live in the world rankings, India ranks 119th while the US ranks 22nd.
According to the list of the most expensive countries in the world, India ranks 191st while the US ranks 5th. In terms of covering living expenses with after-tax salary, 1.3 months' worth of salary is enough in India, while in the US, it's 1.9 months.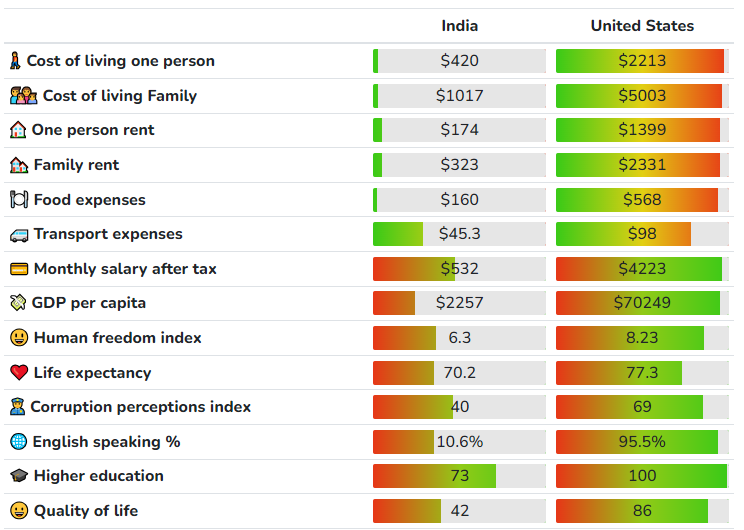 Source: livingcost.org
Housing in the USA
Moving from India to the USA may pose a challenge when looking for suitable and affordable housing options. However, the US provides various housing options that cater to different budgets, like:
Single-family homes
Rental Apartments
Condominiums
Townhouses
Mobile Homes
Shared Housing
The United States offers a variety of housing options, ranging from suburban houses to modern loft apartments. However, before choosing a type of dwelling, it's important to decide whether you want to rent or buy.
Renting an apartment in the USA
For immigrants, renting a house or apartment is the usual choice, and the rental process is similar to that of locals. Your country of origin shouldn't affect your ability to rent, and the contracts are typically the same. However, you may need to provide more documents and a larger security deposit.
Some US states have laws limiting the amount of the security deposit to three and a half months' rent. As for the documents required for renting, you need to prepare:
Passport
Social Security Number (if obtained)
Proof of employment
Contact information of previous landlords
Financial information
It's also important to determine the type of tenancy contract that you prefer when searching for a place. The lease options you can choose from are:
Monthly lease: Lasts 1 month with automatic renewal
Yearly lease: Lasts 1 year
Multi-Year Lease: Extends beyond 1 year
Fixed-Term Lease: Lasts a few months to several years with a specified start and end date
Month-to-Month Lease: A flexible option that automatically renews each month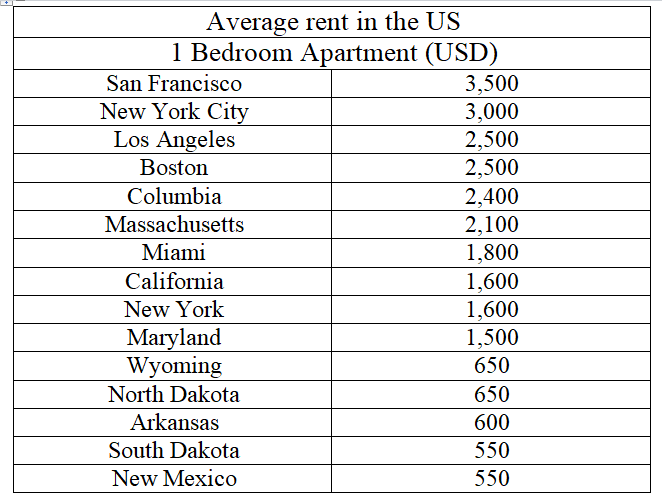 Buying a house in the USA
Non-US citizens are allowed to purchase any property in the USA, as there are no citizenship requirements for real estate sales. In addition, your ability to own a home in the US is not influenced by your immigration status. This means that even if you are an Indian citizen without a US credit history, you can still buy a house in the US.
To know more about the step-by-step process of how foreigners can buy a house in the USA read this article.
When Indians move to the USA and decide to purchase property, their choices vary in terms of location. As per NAR data, Indians purchase:
70% in the Sub-urban areas
15% in central city/ urban areas
14% small-town/rural areas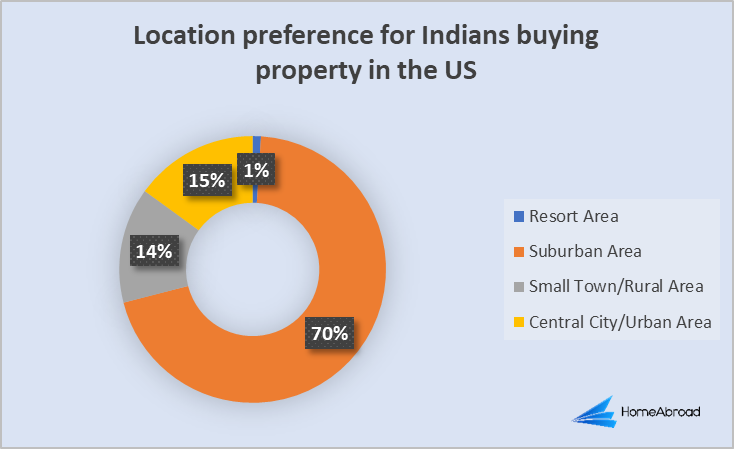 Source: HomeAbroad
Moreover, the average property price in the USA is lower compared to the prices in the central areas of global cities. For instance, in San Francisco, which is considered a relatively expensive city in the US, the cost per square meter of residential real estate is $5,890. In comparison, the cost of residential real estate in Mumbai, India, is much higher at $10,932 per square meter.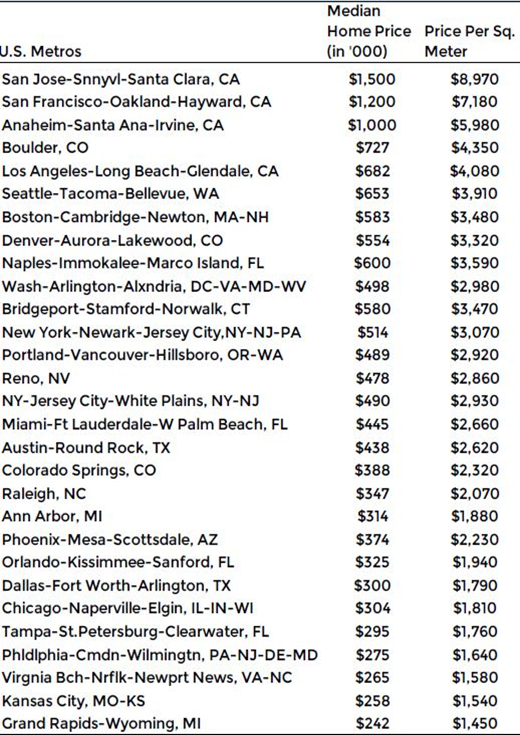 Source: HomeAbroad
Learn more on How can an Indian Citizen Buy a House in the USA? A HomeAbroad guide for Indians buying houses in the USA irrespective of their immigration life cycle stage in the USA.
What are the Visa Options Available for Indians Immigrating to the USA?
When it comes to Indians planning to move to America, there are several visa options available to facilitate their journey. These visa options cater to different purposes, whether it be employment, education, investment, or other specific circumstances.
1. H-1B Visa
This visa is a type of non-immigrant visa that permits U.S. companies to hire foreign skilled professionals for specific jobs that require specialized knowledge. It's mandatory for the job to require at least a bachelor's degree or equivalent.
Generally, this visa is issued for three years, but it can be extended up to six years. Dependents (Spouses and children) of H-1B visa holders can accompany them to the US by applying for an H-4 visa.
2. L-1 Visa
This visa allows multinational companies to transfer employees from foreign branches or subsidiaries to their U.S.-based offices. It is designed for managers, executives, and specialized knowledge employees. It allows them to initially stay in the US for up to three years (for specialized knowledge employees) or up to seven years (for managers and executives).
3. F-1 Visa
This visa is designed for international students who want to pursue academic studies in the United States. This visa is generally for students who are already enrolled in universities, colleges, high schools, language training programs, or other academic institutions.
Students can work on-campus and may also be eligible for Optional Practical Training (OPT) after completing their studies. With OPT, they can work in their field of study for a restricted amount of time.
4. J-1 Visa
This visa is meant for individuals who participate in various exchange programs such as research, teaching, internships, or cultural exchanges and aims to promote international cultural and educational exchange to foster understanding between the U.S. and other countries. The duration of the visa varies depending on the program and can last from a few months to a few years.
5. B-1/B-2 Visa
The B-1 visa is specifically for business activities, such as attending conferences, meetings, or negotiating contracts, while the B-2 visa is for recreational activities, like visiting friends or relatives, tourism, or medical treatment. Generally, the length of stay granted is for six months, but extensions can be granted in certain circumstances.
It's important to note that these visa categories have specific eligibility criteria, application processes, and limitations. It is advisable to consult the official U.S. government websites or seek legal advice to ensure accurate and up-to-date information before pursuing any specific visa category.
Learn about how to get a mortgage on your visa through "Get a Mortgage on J1, O1, F1 Visa & OPT / EAD [2023 Guide]."
How to Migrate to the US from India Permanently?
If you want to stay in the United States long-term and create a stable future for yourself, becoming a permanent resident is essential. To live and work in the US without any time limits, the most common way is to get a Green Card, also referred to as a Permanent Resident Card.
The Green Card is a document that proves permanent resident status and offers many benefits. It enables one to travel in and out of the US with ease, access government programs and benefits, and eventually apply for US citizenship.
While there are other methods to become a permanent resident, such as through asylum or certain nonimmigrant visas, getting a Green Card is the most popular and direct way. This path unlocks many possibilities and is an essential step toward creating a stable and prosperous life in the US.
How to Immigrate to the USA from India Without a Job?
When considering emigrating from India to the USA without a job, there are several visa options to explore. Here are some visa categories that may be suitable for individuals without a job offer:
1. Family-Based Visas
If you have immediate family members who are U.S. citizens or permanent residents, you may be eligible for family-based visas. These include visas for spouses, parents, children, and siblings of U.S. citizens or permanent residents.
2. Diversity Visa Lottery
The Diversity Visa Lottery, also known as the Green Card Lottery, is an annual program that provides a limited number of immigrant visas to individuals from countries with historically low immigration rates to the USA. The program is designed to promote diversity and offers an opportunity for individuals to apply for a green card without a job offer.
3. Investment-Based Visas
The U.S. offers several investment-based visas, such as the EB-5 Immigrant Investor Program. This program requires making a substantial investment in a qualifying U.S. business and creating a certain number of jobs for U.S. workers. It can lead to permanent residency in the USA.
If you possess exceptional abilities in fields such as arts, sciences, business, or athletics, you may be eligible for visas such as the O-1 Visa for individuals with extraordinary ability or the EB-2 National Interest Waiver, which allows individuals who can demonstrate that their work is in the national interest of the USA to self-petition for a green card.
5. Student Visas
Pursuing higher education in the United States can provide opportunities for post-graduation employment. Student visas, such as the F-1 Visa, allow individuals to study in the USA and, in some cases, work part-time on campus during their studies or obtain Optional Practical Training (OPT) after completing their degree.
It's important to note that the immigration process can be complex and lengthy. Consulting with an immigration attorney or expert can provide you with personalized guidance based on your unique circumstances and help you navigate the visa options available for emigrating to the USA without a job offer.
Navigating the Immigration Procedures and Requirements
Navigating the immigration procedures and requirements can be overwhelming and stressful without a proper understanding of the process. Therefore, it is important to seek professional legal assistance when applying for visas and other immigration documents. Here are some key steps to help you navigate the immigration journey:
1. Determine the appropriate visa category
To clarify, you should conduct research and determine which visa category is most appropriate for your specific reason for moving to the USA, whether it be for work, studying, family reunification, or another purpose.
2. Understand the requirements
To apply for the chosen visa category, make sure you understand and meet all the necessary requirements and have all the required documentation. This may include demonstrating your:
Financial stability
Educational qualifications
Work experience
Sponsorship letters or other supporting documents
3. Consult with an immigration attorney
To better understand the procedures and interpret complex immigration laws specific to your situation, it is advised to consult with an experienced immigration attorney. They can provide expert advice and assistance in preparing and submitting your application correctly.
4. Gather necessary documents
Gather all necessary paperwork, including:
Passports
Educational transcripts
Birth certificates
Marriage certificates and any other applicable documents.
Verify that the information on these documents is correct and current. If necessary, ensure that the documents are translated accurately.
5. File the application
Make sure you fill out and submit the necessary immigration forms to the appropriate authority, such as USCIS or the US Department of State, along with all the required supporting documents. Pay attention to important details such as deadlines, fees, and any additional requirements related to your visa category.
6. Attend interviews and appointments
When it comes to the immigration process, you may have to attend interviews and appointments, such as:
Biometric appointments
Consular interviews
Interviews with USCIS officers
Make sure you carefully read and follow all instructions provided, and always provide truthful and accurate information during these interactions to prepare properly.
7. Maintain open communication
Ensure to note any communication or requests for more information from the immigration authorities. Respond quickly and provide all the necessary documents or explanations as asked.
8. Stay informed
To stay informed about changes or updates to immigration laws, policies, or procedures, you should keep an eye on official government websites, seek advice from your immigration attorney, or participate in online forums and communities where you can gain insights from others who have undergone similar experiences.
9. Be patient and persistent
It's important to remain patient and persistent throughout the immigration process. Keep track of important dates, maintain records of all communications, and follow up appropriately if there are any delays or issues.
10. Seek professional assistance
If you face any difficulties or complications while going through the immigration process, it's recommended to seek help from a professional. An immigration attorney or consultant can offer useful advice and assistance to help you overcome any obstacles.
Indian Communities in the USA
Indian communities in the USA are vibrant and diverse, contributing to the cultural fabric of the country. Here are some notable Indian communities in the USA:
Silicon Valley, California: Silicon Valley is home to a significant population of Indian professionals, particularly in the technology industry. Many Indian entrepreneurs, engineers, and innovators have established successful businesses and startups in this region.
New York City, New York: New York City has a thriving Indian community, with various neighborhoods and cultural hubs such as Jackson Heights in Queens and Curry Hill in Manhattan. These areas are known for their Indian restaurants, shops, and cultural events.
Edison, New Jersey: Edison, also known as "Little India," has one of the largest Indian communities in the USA. It is home to numerous Indian-owned businesses, shopping centers, temples, and cultural organizations.
Houston, Texas: Houston has a growing Indian community with a significant presence in industries such as energy, healthcare, and technology. The city hosts various Indian cultural events, including festivals, music concerts, and dance performances.
Chicago, Illinois: Chicago has one of the most vibrant Indian communities with diverse cultural organizations, restaurants, and festivals. Devon Avenue, also known as "Little India," is a popular destination for Indian cuisine, grocery stores, and shopping.
Atlanta, Georgia: Atlanta has a thriving Indian community with a range of cultural, educational, and professional organizations. The community actively participates in cultural events, religious festivals, and community outreach programs.
These are just a few examples, and Indian communities can be found in various other cities and regions across the country. These communities provide support networks, cultural resources, and opportunities for Indians to connect with their heritage while embracing their new lives in the USA.
What Changes Await Indians Moving to the USA?
The US is a melting pot of cultures. Thus, when moving to a new country like the USA, you should be prepared to experience a range of changes, including differences in culture, social norms, lifestyle, and daily routines. Adapting to these differences will be an important part of your transition.
1. Cultural Diversity
The country of America is a culturally diverse country, with people from various backgrounds. Embrace this diversity and engage with individuals of different ethnicities, traditions, and beliefs. It presents an opportunity to expand your viewpoint and gain knowledge from others.
2. Language and Communication
Although English is the main language in the USA, don't worry if you have trouble understanding someone at first. You can improve your skills by participating in conversations, listening attentively, and gradually getting used to the local way of communicating.
Remember to be kind and put in effort since it can make a big difference. In America, people share their thoughts and worries openly and anticipate others to do the same. Thus, it's vital to keep a respectful tone while being concise and clear in your communication.
3. Social Norms and Etiquette
When you're in the USA, remember that social norms may be different compared to what you're used to in India. Being aware of and showing respect for local customs can assist you in fitting in smoothly. It would be helpful to keep in mind the following:
Personal space – Respect others' personal space and avoid standing too close or touching unless there is a close personal relationship.
Greetings – A firm handshake and direct eye contact are considered polite.
Punctuality – It is considered respectful to arrive on time for appointments, meetings, and social gatherings. In case of delay, notify the person in advance.
4. Lifestyle and Cuisine
In America, you can enjoy a diverse lifestyle that includes outdoor activities, cultural events, and a wide range of cuisine, including Indian food that may evoke feelings of nostalgia. However, it's important to bear in mind that American table etiquette differs from Indian dining customs.
Typically, utensils such as a fork, knife, and spoon are used for most meals in the US instead of eating with your hands. Moreover, it's considered good manners to wait for all dishes to arrive before you begin eating, and using your phone at the table may be seen as impolite.
5. Social Integration
To feel like you belong, it's important to connect with others and form friendships. You can achieve this by joining community organizations, cultural clubs, or groups that match your interests. By participating in events and activities related to your hobbies or passions, you can meet people who share your outlook and build meaningful, long-lasting relationships.
Conclusion
Congratulations on beginning your journey to settle in the USA! With proper planning, knowledge, and perseverance, you can have a successful and fulfilling settlement. Stay positive, embrace new experiences, and utilize resources like community groups and online forums to connect with fellow immigrants.
The country offers diverse opportunities for personal and professional growth. Stay informed, adapt to cultural nuances, and remain determined for a rewarding journey. Wishing you success, happiness, and a smooth settlement in the USA!
FAQs
What is the easiest way to go to the USA from India?

The best way to travel from India to the USA varies based on your personal situation and reason for traveling. Some popular options include obtaining a tourist visa (B-1/B-2), visiting family and friends, participating in educational programs, or conducting business activities.

What is the first step to settling in the USA from India?

The first step is to determine your eligibility for an immigrant visa or explore alternative options, such as student visas or work visas, depending on your circumstances and goals.

How to move to the USA from India permanently?

To permanently move to the USA, you need to apply for a Permanent Resident Card, also called the Green Card. There are different ways to get a Green Card like being sponsored for a job, sponsored by family, refugee or asylum status, and other special categories. It is better to talk to an immigration lawyer or study the specific immigration category that fits your situation before choosing.

What are the healthcare and insurance options for immigrants in the USA?

The healthcare and insurance options available to immigrants in the USA depend on various factors such as immigration status, employment, and state regulations. Certain immigrants might qualify for healthcare programs sponsored by the government, while others might need to obtain private health insurance.

Can I bring my pets with me when I move to the USA?

When moving to the USA, pet owners can bring their pets but must follow certain rules and regulations. This includes obtaining vaccination records and health certificates and following quarantine periods. To make sure everything is done correctly, pet owners must read the guidelines provided by the U.S. Department of Agriculture (USDA) and consult with a veterinarian.

How much money do you need for immigration to the USA from India?

Depending on your immigration program, visa type, and personal circumstances, the cost to immigrate to the USA can vary between $1,200 and $8,000. This includes fees for visa applications, medical exams, and other related expenses.
It's crucial to factor in the financial requirements for supporting yourself and any dependents during your stay in the USA. To obtain a more precise estimate of the financial commitment involved, consider consulting an immigration attorney or delving into the specific visa criteria.

How can I find employment opportunities and job prospects in the USA?

To search for job openings in the USA, job seekers can use online job portals, professional networking platforms, and industry-specific websites. It's important to have a strong resume, network with professionals in the desired field, and prepare for job interviews in order to increase job prospects.

What are the tax implications for Indians living and working in the USA?

The tax liabilities of Indians who live and work in the USA depend on their residency status, income sources, and tax agreements between the two countries. These individuals may have to file tax returns in both India and the USA and disclose their global income.

How to move to the USA from India for a job?

To work in the USA, getting an employment-based visa is necessary. The requirements and process vary according to the type of visa, such as H-1B for specialized workers or L-1 for intracompany transfers.
You should begin by finding a job offer from a US employer who will sponsor your visa. You need to meet the visa-specific criteria and demonstrate your qualifications, while the employer also needs to meet specific requirements.

Where do most Indians settle in the USA?

Most Indians prefer to settle in New York City due to its thriving Indian community and great opportunities, followed by Chicago, Washington DC, and Los Angeles.

Can I get PR in the USA from India?

Obtaining Permanent Resident (PR) status in the USA is quite possible for Indians. The PR status, also known as a Green Card, grants individuals the right to live and work permanently in the US. There are various ways to get a Green Card, such as family sponsorship, employment-based sponsorship, and other special categories.

How many years does it take to get PR in the USA from India?

It generally takes 7 to 33 months to get a PR or green card approval in the USA. The time frame can vary depending on your visa type.

What are the educational opportunities available for Indian students in the US?

Indian students can study various fields of study and apply for undergraduate, graduate, and doctoral degree programs at colleges and universities. To pursue their chosen academic programs, Indian students need to meet admission requirements, get an F-1 visa or any other necessary student visa, and may be eligible for scholarships, grants, and other financial aid.

What are the eligibility criteria for obtaining a Green Card in the USA?

To get a Green Card in the USA, the eligibility requirements differ depending on the immigration category. Examples of eligibility paths include sponsorship from family members or employers, being a refugee or having asylum status, or qualifying for certain special immigrant categories.
Each category has its distinct requirements, such as having a job offer that meets qualifications or being a near relative of a U.S. citizen or Green Card holder.

How long does the immigration process take?

What are some resources and support networks available for Indian immigrants in the USA?
Indian immigrants in the USA can receive resources and support from community organizations, cultural associations, and professional networks. These groups offer

How does the process of sponsoring family members for immigration to the USA work?

To sponsor a family member for immigration to the USA, a U.S. citizen or Green Card holder needs to file a petition on behalf of their eligible family member. The sponsoring person must meet specific criteria, like being 21 or older and having the appropriate relationship with the sponsored individual.
The process involves submitting the petition, providing supporting documents, and completing the necessary application and interview procedures.

What documents are required for the immigration process?

The required documents can vary based on the visa category but generally include a valid passport, visa application forms, supporting documentation such as educational certificates, financial statements, and proof of ties to your home country.

What are some resources and support networks available for Indian immigrants in the USA?

Indian immigrants in the USA can receive resources and support from community organizations, cultural associations, and professional networks. These groups offer guidance, assistance, and a sense of community to aid with the transition to a new environment. You also try to connect with the community through online platforms, social media groups, and local events.

How to find housing in the USA?

There are various resources available for finding housing, including online rental platforms, real estate agents, and local community groups. Researching the housing market, understanding rental agreements, and considering factors such as location and budget will help you find suitable accommodation.

How much is the US visa fee in India?

US visa fees vary depending on the type of visa you are applying for:
Visa Type B: Rs 10,880
Visa Type F: Rs 10,880
Visa Type K: Rs 16,320
Visa Type M: Rs 10,880
Visa Type L: 12,920

How can I transfer my finances and assets from India to the US?

There are several ways for individuals to transfer finances and assets from India to the US. These include using international wire transfers, opening bank accounts in the USA, utilizing online payment platforms, or partnering with financial institutions that specialize in international transfers.

Is it a good idea to move to India from the USA?

Whether or not returning to India is a good idea for you will depend on your goals and priorities. However, India is known for its rich culture and affordable cost of living. The people there are also known for their warmth and hospitality.
In case you are looking to reconnect with your cultural roots, find career opportunities, or spend time with your family, then returning to India could be a great option for you.

What are some tips for adapting to the new culture in the USA?

Embracing the new culture involves being open-minded, respectful, and willing to learn. Engage in local activities, connect with the community, and seek opportunities to meet people from diverse backgrounds. Learning about American customs, etiquette, and social norms will help you navigate social situations and build positive relationships.

About the authors:
The Editorial Team at HomeAbroad is comprised of subject matter experts who are real estate professionals, mortgage advisors, content experts and research associates.
Our editorial team has expertise in a wide variety of topics that include
read more…