Read Time:
14 Minute, 14 Second

 by HomeAbroad Editorial Team

·
10 min read
Losing your job is never easy, and when you're an H1B visa holder, the challenges can feel even more overwhelming. The uncertainty, the legal complexities, and the emotional toll can leave you wondering where to turn. If you're among the skilled professionals grappling with a layoff on an H1B visa, this blog post serves as your guide.
We offer clear guidance on what steps to take, your rights, and transforming this setback into a platform for your future. Let us dive into a roadmap of practical advice, resources, and strategies tailored to steer you through these challenging times and boost your self-confidence.
Latest H1B Layoffs Highlights 2023
1. 85,000 H1B Layoffs in 2022-2023
In 2022 and early 2023 alone, 13 of the leading H1B employers in the U.S. disclosed approximately 85,000 layoffs. This figure nearly equals the annual cap for those applying under the "cap-subject" conditions.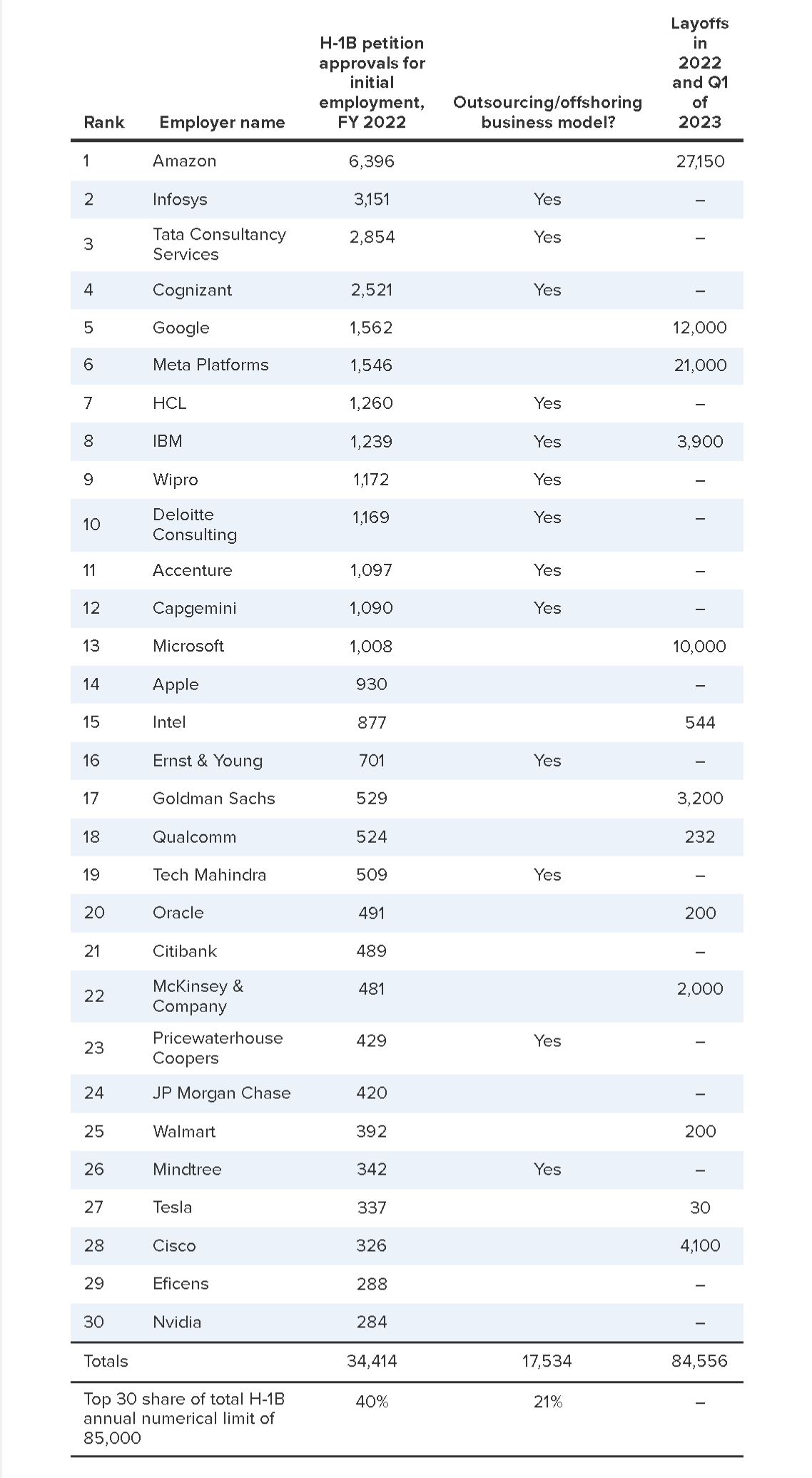 2. Visa Reforms
The uncertain economic climate has prompted many firms to implement widespread layoffs. Following this, H1B visa holders often find themselves in challenging predicaments. This has caught the attention of policymakers, leading to discussions on visa reforms.
3. Grace Period Extension
The White House Asian American and Native Hawaiian Pacific Islander (AANHPI) Advisory Commission has proposed extending the layoff grace period from 60 to 180 days. This effort aims to provide much-needed relief to laid-off foreign workers.
4. EAD and other reforms
Granting Employment Authorization Documents (EAD) and Advance Parole (A.P.) to those with green card backlogs is a topic of other reform discussions. Moreover, once a minor files for adjustment of status, the idea of freezing the dates on their green cards is being explored.
5. Canada's Work-Permit Pathway
In June 2023, Canada introduced a new initiative: 10,000 H1B visa holders in the U.S. could secure open work permits to work in Canada. This move offered vital relief to many laid-off tech professionals. This move received an overwhelming response from applicants, so much so that IRCC has now closed the scheme as it had met its target within the first day on July 16, 2023.
How to Stay Back Legally After H1B Layoff?
As a laid-off H1B visa holder without a pending green card application, you must act fast and look for lawful options for maintaining status within the U.S. Being aware of the regulations relevant to your situation and putting in serious effort can help your immigration stay on track. Here are some options worth considering:
1. Seek Employment with Cap-Exempt Organizations:
Explore job opportunities with cap-exempt employers such as universities, nonprofit research institutions, and certain government entities. These organizations are not subject to the H1B visa cap and can sponsor your visa without waiting for the annual lottery.
2. Transition to F1 Student Visa:
Transitioning from H1B to F1 student status allows you to pursue further education in the U.S. To make this shift, file Form I-539 with USCIS before your H1B status expires. This option suits those looking to advance their academic or vocational goals.
3. Apply for B2 Visitor Visa:
Obtain a B2 visitor visa for temporary non-business and non-academic purposes. This visa can be used for tourism, visiting family, medical care, or leisure activities. It gives you time to explore job opportunities, and later, you can switch back to an H1B visa if you secure employment.
4. Change to H4 Dependent Visa:
If your spouse holds an H1B visa, you can switch to an H4 dependent visa. This allows immediate family members to remain in the U.S. during the authorized employment period of the H1B holder. You must file the H4 Change in Status Application within the 60-day grace period.
You can also consider F1 student status or Optional Practical Training (OPT) for children studying in the U.S.
5. Explore Other Visa Categories:
EB5 Investor Visa: Transition to permanent residency through the EB5 Investor Program by investing a specific amount in a qualifying U.S. business. This path leads to permanent U.S. citizenship and green cards for eligible family members.
O1 Extraordinary Ability Visa: If you meet extraordinary ability criteria in fields like science, art, education, business, athletics, or entertainment, you can apply for an O1 visa. Substantial evidence of your achievements is required.
L1 Intracompany Transferee Visa: Transfer from a foreign company to a related U.S. company as a manager/executive (L1A) or an employee with specialized knowledge (L1B). Ensure eligibility, file Form I-129, and choose a status change or consular processing.
J1 Visa: Depending on your field of expertise, you might be eligible for a J-1 Exchange Visitor Visa. This visa allows for cultural exchange programs and includes categories such as research scholars, professors, and trainees. Be aware of the two-year home residency requirement associated with some J-1 visas.
6. File EAD Based on Compelling Circumstances:
The USCIS has expanded EAD eligibility for compelling job loss-related circumstances. Individuals with approved employment-based immigrant petitions dealing with delayed visa processing due to a backlog may be eligible.
Those with non-immigrant status can apply if they show hardships beyond typical job loss. Examples include:
Health issues altering employment.
Severe financial hardship with added factors.
Employer disruption due to applicant expertise.
To be eligible, you must have an approved I-140 petition, valid status, no adjustment of status filing, and a non-current priority date. Note that the EAD only grants you a period of authorized stay.
7. Apply for a National Interest Waiver (NIW):
If you possess exceptional skills and your work is deemed to be in the national interest of the United States, you might qualify for a National Interest Waiver. This could exempt you from the usual labor certification requirement and potentially lead to a green card application.
8. Explore H1B Portability:
If you have an approved I-140 petition from a previous employer and you've been maintaining lawful H1B status, you might be able to change employers without going through the entire H1B petition process again. This is known as H1B portability.
9. Entrepreneurial Options:
Explore entrepreneur visa options like the E-2 Treaty Investor Visa, which allows nationals of certain countries to invest in and manage a business in the U.S. There is no fixed investment amount, but it should be substantial and provide employment opportunities for U.S. workers.
10. Consult a Labor Attorney:
If your layoff might have involved wrongful termination or labor law violations, consulting an employment attorney could help you understand if you have legal recourse. This could also potentially impact your immigration situation.
What to Do with US Property After Losing Job on H1B?
If you own a house in the U.S. and need to return to your home country following an H1B layoff, there are a few options you may want to consider.
Selling the Property
Rent out the property.
Let your friends/family use it.
Continue to own for amazing appreciation.
Legal Aspects of H1B Layoffs
1. Notice and Termination
H1B visa holders should be aware that if they are laid off or otherwise lose their jobs, they are not automatically violating U.S. immigration law. Instead, they must receive an advance notice from their previous employer at least 60 days before they stop working. This gives them a chance to apply for a different visa or try to find another job in the U.S. during this time.
2. Status and Departure
If laid off, an H1B visa holder loses their employment-sponsored status. They must either find new employment or leave the U.S. within a reasonable timeframe, usually around 60 days. However, the laid-off worker may qualify for a longer grace period if they have a pending green card application or an authorized I-140 immigrant petition.
3. Transfer of Status
Laid-off H1B visa holders can transfer their visa status to a new employer. The new employer is required to submit a fresh H1B status petition on their behalf. During this period, the employee can remain in the U.S. and continue to work legally.
Your Rights Following H1B Job Loss
1. Severance Pay and Benefits
Laid-off H1B workers might get severance packages, benefits, or other compensation after a layoff, depending on their work agreements. It is crucial to review employment agreements for these details.
2. Continued Legal Status
If an H1B visa holder secures new employment or transfers their H1B to a new employer, they can continue legally residing and working in the U.S.
3. Labor Condition Application (LCA)
Employers must notify the U.S. Department of Labor (DOL) about any material changes in employment conditions.
4. I-140 Priority Date Retention
If an H1B employee has an approved I-140 immigrant petition, they might be able to retain the priority date for future green card applications, even after being laid off.
Is there a Grace Period After Being Laid Off on H1B?
Yes. Most laid-off H1B visa holders are given a 60-day grace period to try and find new employment or move back to their home country. The grace period gives them time to take the necessary steps to maintain lawful status. This includes filing an application for a change of status, obtaining a new visa, or finding a new employer willing to hire and sponsor them.
Note that the 60-day grace period begins upon employment termination. Laid-off workers must start their job search or other activities necessary for legal status immediately after being laid off.
'Out of Status' vs. 'Unlawful Presence'
In the context of an individual's immigration status, the terms "out of status" and "unlawful presence" are used in U.S. immigration law. While they are related concepts, they have distinct meanings and implications.
When someone's authorized stay or visa conditions expire or are violated, they are considered out of status. They lack legal permission to stay, work, or study in the U.S.
This refers to an individual's time in the U.S. without a valid visa. It starts accumulating after their permitted stay is over. Being unlawfully present can lead to future visa application restrictions, re-entry bans, and potential deportation by the Department of Homeland Security.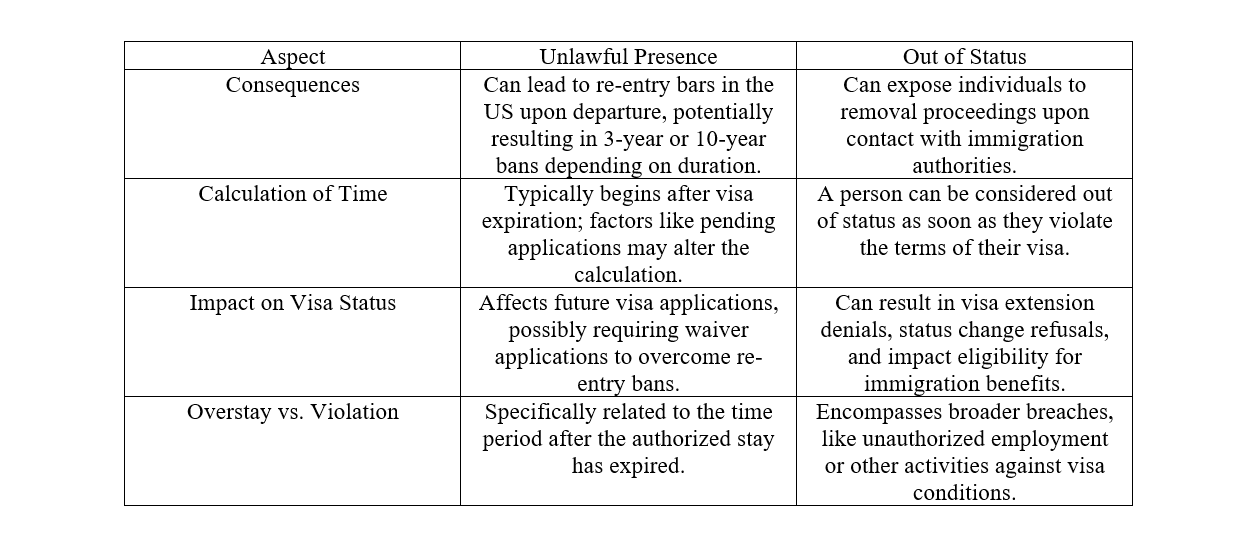 Failure to Maintain Lawful Immigration Status
Suppose foreign workers fail to maintain lawful status during the grace period. In that case, they may be subject to deportation or other legal consequences. They may also be charged with accruing "unlawful presence" and incur penalties if they continue to be in the U.S. after the end of their authorized validity period, including:
Being subject to removal proceedings
Being prohibited from re-entering the U.S. for a specific period
Being barred from obtaining certain types of visas in the future
Facing a 3-year bar from returning to the U.S. if accruing over 180 days of unlawful presence
Facing a 10-year bar from returning to the U.S. if accruing over a year of unlawful presence
Being subject to hefty fines, penalties, or criminal charges.
Conclusion
The life of a foreign worker on an H1B visa is a blend of many challenges and opportunities. Resilience and adaptation are needed to navigate the tricky employment market, immigration laws, and personal objectives. While layoffs may alter your trajectory, they allow you to reevaluate it and align it more closely with your goals.
Taking swift action can help you sustain your legal status and avoid penalties. You can retake control over your immigration status by using resources like this guide, looking into job prospects abroad, exploring visa choices, consulting an immigration attorney, and leveraging professional networks. The best strategy at this time is to be aware, look for support, and take the required steps to stay within the law. 
FAQs
What is the H1B layoff 60-day rule?

The 60-day rule allows H1B visa holders who have lost their jobs to stay in the U.S. for a maximum of 60 days after their employment termination. This period is intended to give them time to find a new job, transfer to a different visa status, or prepare to depart the country.

What is the post-layoff validity period for H1B status?

After being laid off from your H1B-sponsored job, your visa remains valid for up to 60 days. During this time, you can explore new employment opportunities, initiate a visa transfer, or make arrangements to leave the U.S.

What happens if you experience an H1B layoff?

During a layoff on an H1B visa, you should actively search for a new employer or consider other visa options during the grace period. Remember that you can remain in the U.S. during this period as you navigate your next steps.

What should I do immediately after an H1B visa layoff?

After an H1B visa layoff, you should inform the USCIS about the termination and departure from your previous job. It's also important to understand your legal obligations and options moving forward.

Do you lose your H1B if you quit? 

If you quit your job while on an H1B visa, you will no longer have employment sponsorship, and your H1B status could be jeopardized. Having a new job offer or leaving the U.S. before your status becomes invalid is crucial.

What to do when you are laid off on H1B? 

When laid off on H1B, you should immediately seek legal advice and explore options like finding a new job, transferring your visa to a new employer, changing the status of your visa, or departing the U.S. within the grace period to maintain legal status.

What happens if you lose a job after I-140 approval? 

If your I-140 (employment-based immigrant petition) has been approved and you lose your job, you may still have options to maintain your lawful status, such as finding a new job or having your new employer continue the green card process.

Is there a grace period for H1B severance? 

The grace period for H1B typically starts from the last day of employment, including any severance or notice period. It's essential to understand the specifics of your situation to ensure compliance.

How long is H1B valid after losing a job? 

After losing your job on H1B, you usually have a grace period of 60 days to find new employment or make arrangements to leave the country. During this time, your H1B visa remains valid.

Can you terminate an H1B employee? 

Yes, employers can terminate H1B employees. However, this termination should be in compliance with labor laws and visa regulations. Employers are responsible for notifying relevant authorities about the termination.

What happens to your work visa if you get fired? 

Your work visa status is affected once your employment ends. Laid-off workers get grace periods of 60 days to secure future employment, change employers, change the status of their visas, transfer their visas, or make departure arrangements.

Is it possible for an H4 EAD spouse to work during the H1B 60-day grace period?

Yes, the H-4 EAD holder is generally permitted to continue working during the H1B 60-day grace period. The validity of the H4 EAD is linked to the individual's legitimate H4 status, which in turn relies on the validity of the associated H1B status.

What happens if I leave my job on an H1B visa?

Leaving your job while on an H1B visa affects your immigration status. H1B status is tied to your employment with the sponsoring employer.

Can I transfer my H1B to a new employer?

Yes, if you find a new employer willing to sponsor your H1B, they can file an H1B transfer petition for you to work under their employment.

Can you take unpaid time off on H1B?

Taking unpaid time off on H1B can impact your status. It's advisable to consult with an immigration attorney and ensure that any extended periods of unpaid leave are in compliance with visa regulations.

How many H1B layoffs are there?

As of early 2023, close to 85,000 layoffs have been reported by leading tech companies, including Amazon, Meta, Google, and more.

About the authors:
The Editorial Team at HomeAbroad is comprised of subject matter experts who are real estate professionals, mortgage advisors, content experts and research associates.
Our editorial team has expertise in a wide variety of topics that include
read more…