Read Time:
9 Minute, 55 Second

 by Amresh Singh

·
7 min read
DSCR loans open doors for property investment in Louisiana. But it takes more than knowing about them to get one. To get started, you should understand the prerequisites, qualifications, associated costs, maximum loan amounts, and, most importantly, how to connect with the top lenders for DSCR loan Louisiana.
In this guide, we'll delve into all the essential details and help you establish a connection with the finest DSCR lenders in Louisiana.
Determining Eligibility for DSCR Loans in Louisiana: The One Key Factor
In Louisiana, the big deal with DSCR mortgage loans is your DSCR ratio. You've got to hit 1 or higher to get approved. It's pretty much your golden ticket for DSCR loan eligibility.
DSCR < 1: Tough loan approval, property income < debt.
DSCR = 1: Good chance, property income = debt.
DSCR > 1: Smooth approval, property covers debt + extra cash
Figuring out your DSCR ratio is pretty much easy with our handy calculator. Just plug in your financial info, and you're good to go!
Debt Service Coverage Ratio (DSCR) Calculator
Know the viability of your investment property with our DSCR calculator. Ensure you have the financial capacity to meet your debt obligations.
DSCR Loan Requirements in Louisiana
Just like with any other loan in Louisiana, DSCR loans also come with specific requirements you must meet when applying.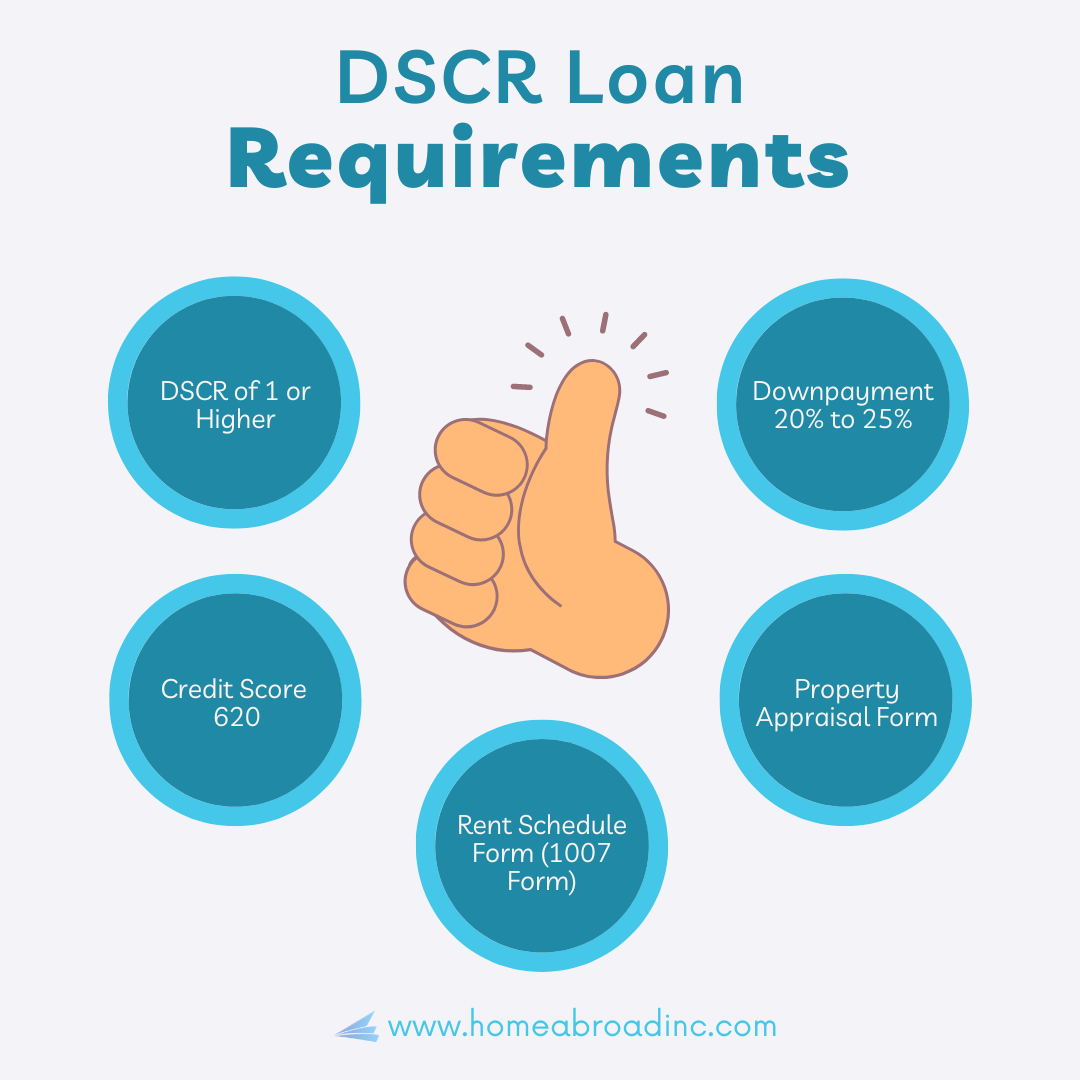 1. DSCR Ratio of 1 or Above
Achieve a DSCR ratio of 1 or higher for loan eligibility.
DSCR measures property performance.
A ratio above 1 indicates a strong ability to cover the debt.
Enhance DSCR with strategies for easier debt coverage.
2. Downpayment of 20% to 25%
Provide a downpayment ranging from 20% to 25% of the loan amount.
This downpayment assures lenders of your commitment to loan repayment.
Downpayments below 20% are generally unsuitable for DSCR loans because:

DSCR loans carry a higher risk for lenders.
A substantial downpayment mitigates this risk.
Demonstrates your financial stability and lowers the lender's concerns about default.
3. Credit Score of 620
Aim for a minimum credit score of 620 for DSCR loan approval.
A higher score boosts your credibility and builds lender trust.
While personal income and employment history are less relevant,

Lenders still seek assurance of your borrowing capacity,
Especially if your property might struggle to cover future debts.
Demonstrating your ability to handle potential financial shortfalls is important.
4. Property Appraisal Form
Appraisal forms evaluate your property's value and condition.
Vital in real estate transactions and lending decisions.
Appraisers use them for objective property value assessment.
Lenders rely on these forms to evaluate property performance.
This form aids lenders in assessing the property's future debt coverage potential.
Higher market value enhances the property's ability to cover debt smoothly.
5. Rent Schedule Form ( Form 1007 )
The rent schedule form determines the fair market rent of your property.

Crucial as rental income impacts debt payment.

Lenders use them to evaluate a property's rental income capacity.
Applying for a DSCR Loan in Louisiana: Essential Steps
Securing a DSCR loan in Louisiana involves the below-mentioned steps, but remember, they might change depending on your lender or your financial situation.
Step 1: Choose Your Lender
Start by conducting your own research.
Choose a lender that aligns with your specific needs.
The choice of lender is crucial; their expertise and terms can significantly impact your loan.
Ready to save time on your research? Connect with Louisiana's top-rated DSCR lenders through us today!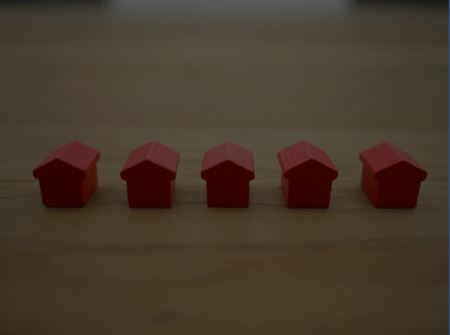 Connect with the Best DSCR Lenders
Get quotes from multiple lenders to compare and pick the best one!
Step 2: Assess Your Finances
Step 3: Gather Documents and Complete the Application
Collect crucial documents, including:

Credit score reports
Property income records
Property appraisal form
Rent schedule form
Other documents requested by lenders

Complete the lender's application form along with these documents.
Step 4: Lender's Review
The lender reviews your application, credit history, and financial documents.
The lender assesses your credibility as a borrower.
Property eligibility and its financing capacity are evaluated by the lender.
Step 5: Loan Approval: Beginning Your Louisiana Investment Journey!
If the lender is happy with your application, they'll send you a loan offer.
This offer will outline the loan amount, interest rate, terms, and conditions.
If you're satisfied with the offer, the lender will provide the loan funds.
You can now start your Louisiana investment journey with the best DSCR loan terms in hand.
Minimum DSCR Requirement for DSCR Loans in Louisiana
As you know, in DSCR loans, it's all about your property's ability to cover the debt, not just you as an individual. The key factor here is your property's DSCR ratio.
To qualify for a DSCR loan, you need a minimum DSCR ratio of 1 or higher.
There are ways to boost your ratio, like:

Increasing rental income.
Implementing cost-saving measures.
Paying down existing debts.
Optimizing property management for efficiency.
Connecting with the Top DSCR Lenders in Louisiana
Finding experienced DSCR loan lenders in Louisiana can be tricky because these loans have their own nuances. That's where HomeAbroad steps in. Our network includes Louisiana dscr lenders ready to offer DSCR loans tailored to your specific situation. Begin your investment journey with us today!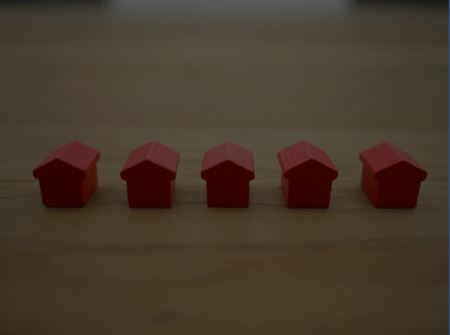 Connect with the Best DSCR Lenders
Get quotes from multiple lenders to compare and pick the best one!
It's essential to be aware of the costs and fees linked to DSCR loans before applying. This way, you can get everything ready in advance.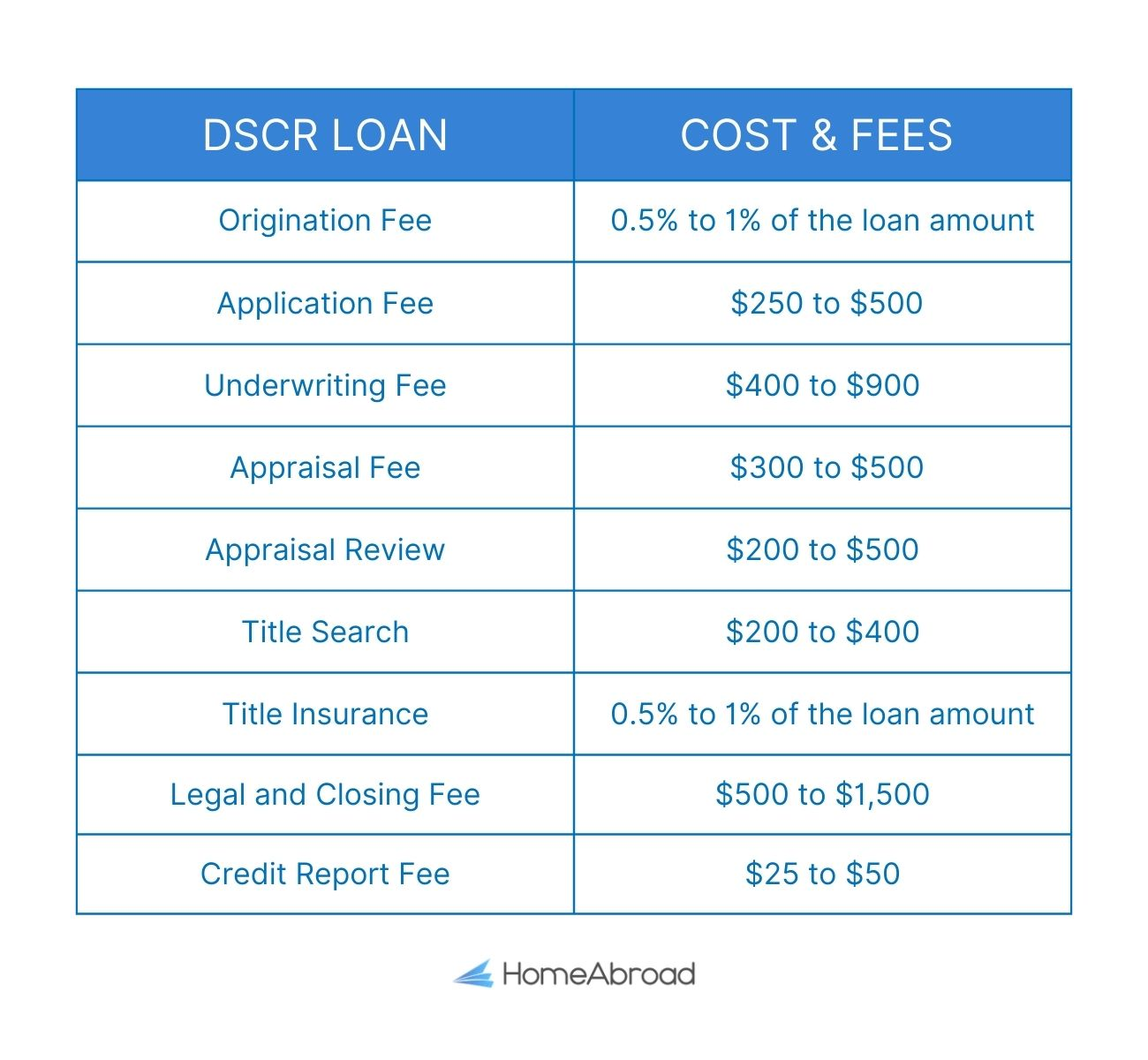 Source: HomeAbroad
Reach out to your lenders directly to get the precise details.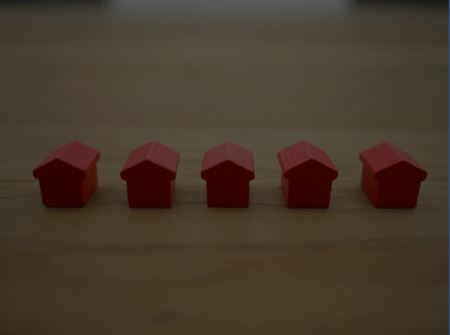 Compare Rates from Best DSCR Lenders
Get pre-qualified for Investor Cash Flow Mortgage based on potential rental income
DSCR Loan Amounts in Louisiana: Minimum and Maximum Loan Amount
DSCR loans in Louisiana offer borrowers the flexibility in choosing their loan amounts.
You can start with as low as $100,000 and can go up to $150,000.
Need more funds? Louisiana's DSCR loans can provide you with higher amounts, going all the way up to $5 million for your investment ventures.
Source: HomeAbroad
Prepayment Penalty in DSCR Loan Louisiana
Prepayment penalties are charges for paying off a loan before its term ends. Not all lenders impose these penalties, so carefully review your loan terms.
They often follow a "step down" structure, like 3-2-1 over three years.
Year 1: Penalty could be 3% of the remaining loan balance.
Year 2: It drops to 2%.
Year 3: Further decreases to 1%.
Can an LLC Qualify for a DSCR Loan in Louisiana?
Absolutely, LLCs are eligible for DSCR loans in Louisiana, and there are numerous advantages to this approach.
Forming an LLC offers valuable liability protection, shielding your personal assets from property-related risks and liabilities.
It facilitates clear asset separation, helping to keep your business and personal finances distinct.
Additionally, operating as an LLC can come with tax benefits, making it a smart choice for real estate investments.
Is a DSCR Loan Possible for a Short-term Rental Property?
Yes, a DSCR loan is available for short-term rental properties. As DSCR loans are for investment properties and rely on the property's income, you can get the DSCR loan for short-term rentals.
DSCR Loan Interest Rates in Louisiana Today!
DSCR loans typically come with slightly higher interest rates, about 1% to 2% more than regular loans. However, don't hesitate to talk to lenders about these rates. If you've got a solid borrower profile and they see you as a reliable candidate, they might be open to tweaking the interest rate in your favor.
Refinancing Your Investment Property Loans with DSCR Loans
If you currently hold an investment property loan but are attracted to the benefits of DSCR loans, remember that you can switch things up. Refinancing your existing loan with a DSCR loan can bring you various advantages, including:
Lower interest rates
Enhanced cash flow
Extended loan terms
The requirements and eligibility criteria for DSCR refinance are pretty much in line with what you'd find for regular DSCR loans. So, it's a win-win scenario for you!
Alternative Investment Property Loans in Louisiana
If you happen to face challenges qualifying for DSCR loans, you can explore the following loan alternatives for your investment properties in Louisiana.
Real Estate Market Insights in Louisiana and Prime Investment Locations
Here's a table offering insights into Louisiana's real estate market, aiding your decision on investing in the state's property market.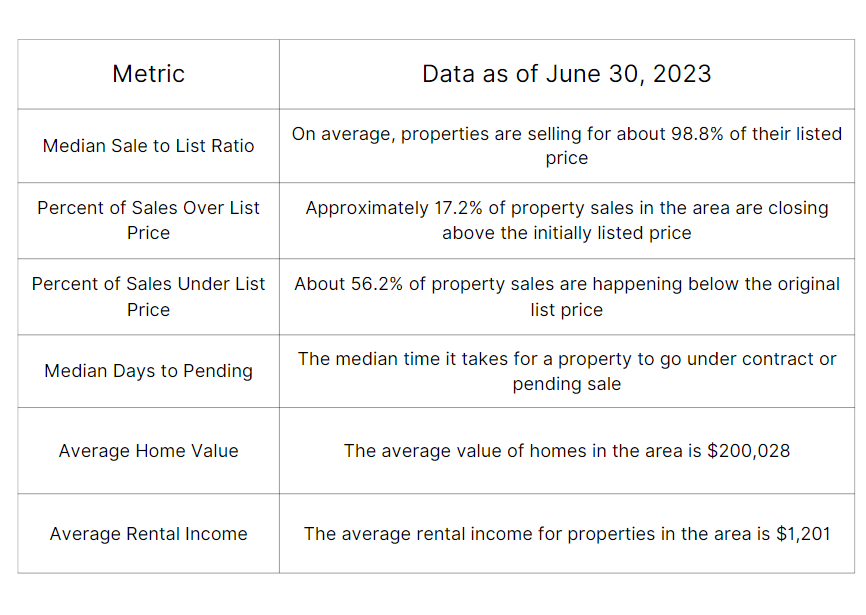 Source: Zillow
Through our network of lenders, who provide DSCR loans with improved terms and flexibility, you can expand your real estate portfolio in Louisiana's real estate market.
Places to Invest in Louisiana with DSCR Loans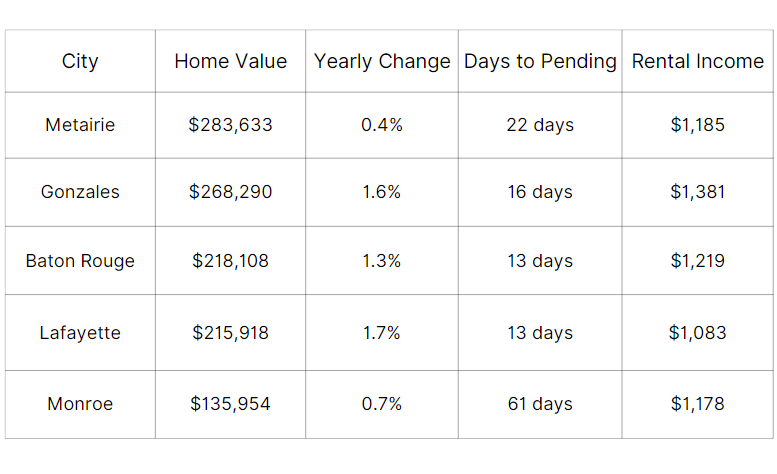 Source: Zillow and RentCafe.com
In Summary
We've covered the essentials to help you secure a DSCR loan in Louisiana. Now, let HomeAbroad connect you with the best DSCR loan lender in LA, who understands your unique needs.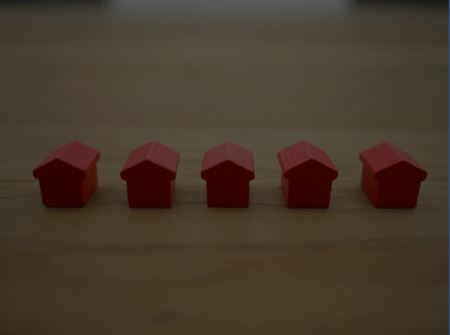 Connect with the Best DSCR Lenders
Get quotes from multiple lenders to compare and pick the best one!
FAQs
What is a DSCR loan, and how does it work in Louisiana?

A DSCR loan is a type of property investment loan tailored for real estate investors, self-employed individuals, or anyone seeking financing based on their property's cash flow. In Louisiana, DSCR loans operate by placing the property's cash flow at the forefront to cover debt payments.

How is the debt service coverage ratio calculated?

You can calculate your DSCR ratio by dividing the property's net operating income (NOI) by the total debt service (loan payments). The formula is:

DSCR Ratio = Net Operating Income (NOI) / Total Debt Service

How can I improve my property's DSCR ratio to qualify for a DSCR loan in Louisiana?

You can boost your DSCR ratio by elevating rental income, trimming expenses, settling existing debts, and enhancing property management efficiency.

How much do you need to put down on a DSCR loan?

With DSCR loans, it's common to put down 20% to 25% of the loan amount. Lenders do this to lessen the chances of loan default.

Do lenders consider the borrower's personal income for loan approval?

In the DSCR loan application process, there's no need for personal income verification; lenders focus solely on your property's income to ensure it can cover the debt payments.

How do low property prices impact DSCR loan eligibility?

Lenders consider your property's value as a significant factor when determining your eligibility for a DSCR loan. So, it's usually a smart move to invest in properties with a higher market value.

Higher property values increase the likelihood of generating robust positive cash flow.

About the author:
Amresh Singh is the founder & CEO of HomeAbroad and has an extensive 12+ years of experience in the financial services and mortgage industry – building business development and product strategy and leading customer strategy
in the financial services industry domain.
Prior to co-founding HomeAbroad, Amresh has worked for one of
read more…