Read Time:
12 Minute, 29 Second
· 9 min read
You might have heard that DSCR mortgage loans are a great option for real estate investments in Wisconsin, but if you're unsure about how to secure one, we've got you covered. We'll walk you through all the essential information, including what you need to qualify for a DSCR loan, the steps involved in the application process, the types of properties that are eligible, and, perhaps most crucially, how to find a DSCR lender in Wisconsin.
So, let's dive right in!
Debt Service Coverage Ratio and DSCR Loans in Wisconsin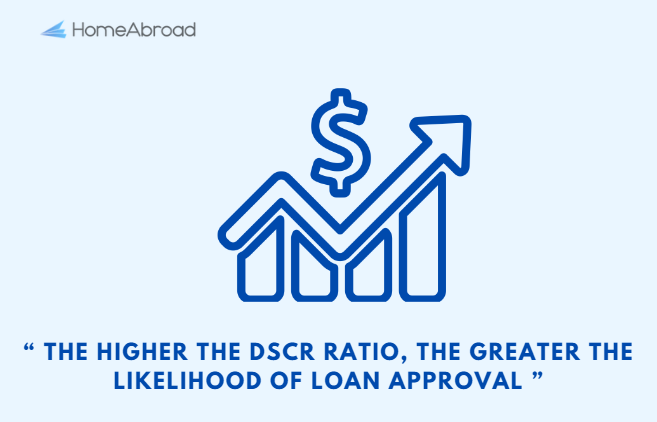 The DSCR ratio, short for debt service coverage ratio, helps mortgage lenders see if your investment property can generate enough cash to cover its debt. In Wisconsin, you'll qualify for DSCR mortgage loans if your property's ratio is 1 or higher.
Your DSCR ratio can vary – it could be below one, exactly one, or above one, and here's what that means for you.
| | |
| --- | --- |
| DSCR < 1 | Risky – Your property isn't generating enough income to cover its debt |
| DSCR = 1 | Bare Minimum – Your property is just covering its debt |
| DSCR > 1 | Safe – Your property covers its debt and offers a safety buffer |
Finding out your DSCR is so easy with our DSCR calculator. Give it a try and see if you qualify for a DSCR loan in Wisconsin!
Debt Service Coverage Ratio (DSCR) Calculator
Know the viability of your investment property with our DSCR calculator. Ensure you have the financial capacity to meet your debt obligations.
DSCR Loan Requirements in Wisconsin
Aside from your DSCR ratio, there are some other requirements you'll need to meet. Here they are:
1. DSCR Ratio of 1 or above
Maintaining a DSCR ratio of 1 or higher is vital because it mirrors your property's cash flow. A higher ratio means your property is better equipped to manage its debt.
DSCR = Net Operating Income / Total Debt Service
2. Credit Score of 620
Your credit score is a snapshot of your financial responsibility and past debt management. Lenders care about it because if your property can't cover the debt, they look to you. To qualify, keep your credit score at 620 or higher. However, depending on the lender, it's still possible to secure a DSCR loan with a credit score below 620 but with potentially higher interest rates and a larger down payment requirement.
Remember, the lenders only check your credit score, not your personal income or work history.
3. Downpayment of 20% to 25%
For your downpayment, set aside 20% to 25% of your loan amount. This signals your commitment to the investment. While DSCR loans have a higher downpayment than traditional mortgage loans, their benefits to your investment property make it worthwhile.
4. Appraisal Form
The appraisal form holds the key to your loan amount. It reveals your property's market value, which, if it's in a prime spot in Wisconsin with all the essentials, can boost your loan amount significantly.
5. 1007 Rent Schedule Form
Like the appraisal form, the 1007 rent schedule is a crucial tool for lenders. It shows how much rental income your property can generate. If your place is in a prime location with amenities nearby, it's likely to attract tenants and boost your rental income. With higher rental income, your DSCR ratio improves, increasing your loan approval chances.
DSCR Loan Wisconsin: Application Process
Of course, the steps you follow for a DSCR loan can vary with your lender, but here are some general guidelines to consider.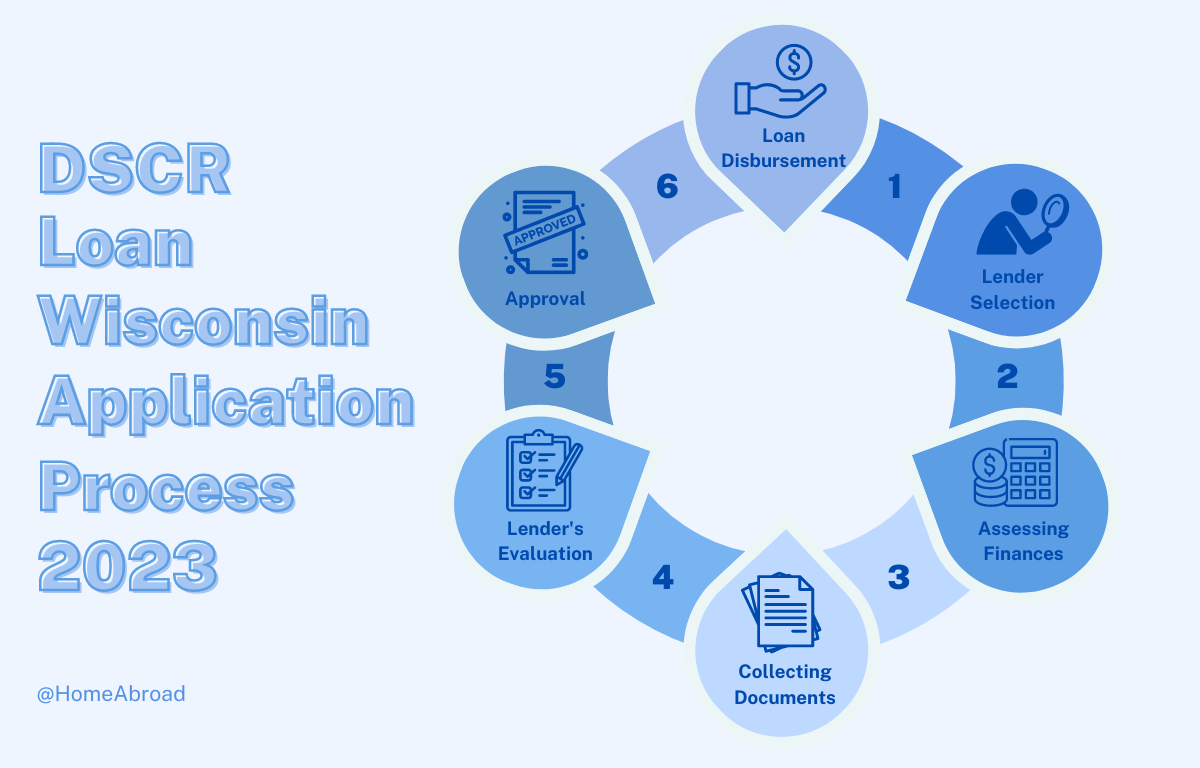 Step 1: Selecting the Right Lender
In Wisconsin, take your time shopping around to find the ideal lender who matches your needs. This first step is crucial since your lender can make or break your investment journey.
You can seek recommendations from friends or family who've been through this process, or we can connect you with top lenders in Wisconsin at no cost to you.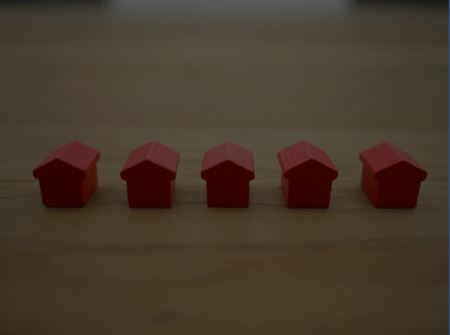 Compare Rates from Best DSCR Lenders
Get pre-qualified for Investor Cash Flow Mortgage based on potential rental income
Step 2: Evaluating Finances
Once you've got your lender in mind, it's time to see if their requirements match your financial situation.
Check if your DSCR ratio is at least 1, if you can manage a 20% to 25% down payment, and if your credit score is 620 or higher, along with any other requirements the lender may have.
If everything lines up, you're in good shape!
Step 3: Gathering Documents
Lenders require evidence. They'll request documents to confirm your eligibility.
This includes your property appraisal form, rent schedule form, past rental income records, and credit history documents. They might also request additional paperwork. Be ready to provide whatever they need.
Step 4: Collecting Appraisal and 1007 Rent Schedule Form
Lenders rely on appraisal and rent schedule forms to evaluate your property's market value and potential rental income. These forms play a crucial role in determining the loan amount you qualify for.
You can have an appraiser visit your property, and they'll assess its market value and rental income based on factors like location.
Step 5: Lender's Assessment
After you've submitted all your documents, the lenders will carefully review them. They'll assess whether your property meets the criteria for repaying the loan and look for other relevant factors.
Step 6: Loan Approval
If the mortgage lender gives you the green light, you'll receive approval. Following that, you'll receive an offer letter detailing the loan amount, interest rate, and terms.
Step 7: Receiving Loan Funds
If the terms are agreeable to you, the lender will release the loan funds. With this money in hand, you're all set to kickstart your investment journey in Wisconsin!
Who is it for?
DSCR loans in Wisconsin are essentially open to anyone, regardless of your personal background, income, job history, or pay stubs. What really matters is whether your property can generate enough cash flow to cover your mortgage payments and if you can meet all the other requirements your lenders might have.
So, if your property can pay the bills, and you can check off all the lender's boxes, you're a prime candidate for a DSCR loan in Wisconsin.
Connecting with Your Top Lender in Wisconsin
Locating a DSCR lender can be challenging due to their specialized nature. But with HomeAbroad, you gain access to our lender network, offering flexible terms tailored to your needs, all at no cost.
Let HomeAbroad's tech-powered platform help you find your perfect lender match.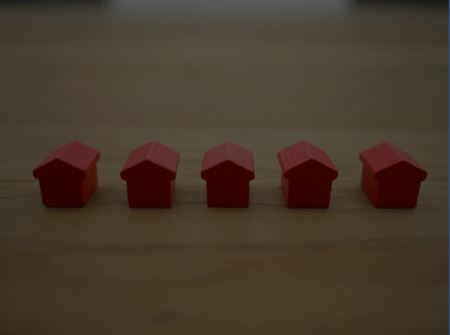 Compare Rates from Best DSCR Lenders
Get pre-qualified for Investor Cash Flow Mortgage based on potential rental income
DSCR Interest Rate Today
DSCR loans have higher interest rates, around 1% to 2% more than a traditional mortgage loan, leading to slightly higher monthly payments. Lenders charge more because DSCR loans carry more risk. But if your investment property can easily cover the debt with its income, don't worry too much about the higher interest rates.
What if Rental Income Doesn't Cover Your Debt Service
If your rental properties' rental income can't cover your debt payment, it's a sign things aren't going well. Low rental income causing a DSCR ratio below one isn't what lenders want. So, it's time to take serious steps to boost your DSCR ratio and, in turn, improve your rental income.
Here are some steps you can consider to boost your rental income:
Increase Rental Rates: Assess if you can charge more without losing tenants.
Cut Expenses: Find ways to trim property costs, like maintenance and utilities.
Minimize Vacancies: Boost property marketing to fill empty units promptly.
Diversify Income: Look into extra income sources like short-term rentals, laundry, or parking fees.
Upgrade Property: Enhance your property to raise its value and rental income potential.
However, some lenders might approve your loan with a DSCR ratio below 1, but it solely depends on the lender you are choosing.
DSCR Loans and Real Estate Investors in Wisconsin
Real estate investors in Wisconsin have plenty of good reasons to consider DSCR loans; some are given below.
Flexible Qualifications: These loans are more forgiving when it comes to your personal financial history or job status. It's more about your property's performance.
Investment Growth: DSCR loans can help you acquire more properties since they're based on the potential of your real estate investments, allowing for portfolio expansion.
Long-Term Strategy: With DSCR loans, you can lock in fixed interest rates for extended periods, which can be a smart move in the world of real estate investing.
Lower Personal Risk: Because the loan is tied to the property's income, your personal assets are less at risk if things don't go as planned.
Multiple Property Acquisition: DSCR loans empower you to purchase multiple properties, further enhancing your real estate investment opportunities.
DSCR Loan Limits in Wisconsin
Wisconsin's DSCR loans provide borrowers with a range of options when it comes to loan amounts. You have the freedom to begin with as little as $100,000, and you can extend your loan request up to $150,000.
If your investment plans require more substantial funding, Wisconsin's DSCR loans have the capacity to accommodate larger amounts, extending up to $5 million.
DSCR Loans and Short-term Rental Properties in Wisconsin
DSCR loans are versatile and can be used for various property types:
Rental Homes
Multi-Family Units
Short-Term Rental Properties (e.g., Airbnb)
Plus, they're not too picky about your level of experience – whether you're a newbie or a seasoned pro, DSCR loans can be your reliable option as long as the property can cover the mortgage payments.
Real Estate Market Wisconsin 2023
Wisconsin's real estate market appears to offer favorable conditions for real estate investors.
A median sale-to-list ratio of 1.016 suggests that properties in Wisconsin are selling very close to their listed prices, which is a positive sign for investors like you. It indicates that sellers are likely receiving offers close to their asking prices, potentially resulting in profitable transactions.
The high percentage of 60.4% of sales exceeding the list price indicates strong demand in the market. In a competitive market with bidding wars, sellers have the advantage, potentially leading to higher property values and potential appreciation for investors.
While the majority of sales exceed the list price, the fact that nearly 28% of sales are below the list price suggests negotiation opportunities for buyers. Investors looking to acquire properties may find room to negotiate favorable terms and prices, potentially enhancing their returns.
The median time for properties to go under contract is 16 days, indicating a relatively fast-paced market.
The typical home in Wisconsin is valued at $292,400, reflecting a 4.8% increase in the past year.
The average rental income in Wisconsin is $1,322 per month.
Considering all these factors, it becomes evident that this is a great time to explore investment opportunities within Wisconsin's real estate market.
Places Worth Investing in Wisconsin 2023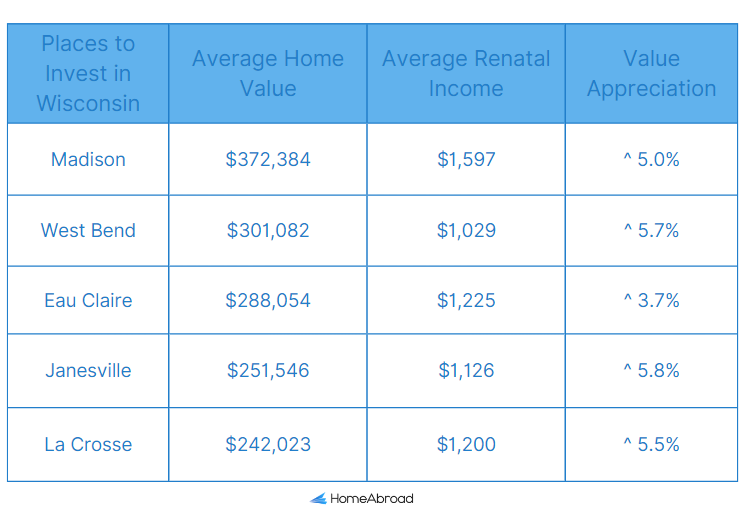 Other Property Investment Loans for Real Estate Investors in Wisconsin
Even if you don't qualify for a DSCR loan, there are still other financing options available for your investment properties. You can explore alternatives like bank statement loans, self-employed mortgages, and no-doc mortgages. Check out the articles dedicated to these loan types below!
DSCR Loans in Other U.S. States
If you're curious about how DSCR loans operate in different states across the US, you might find these articles worth a read.
To Sum Up
We understand that simply having information about DSCR lenders won't guarantee your DSCR loan in Wisconsin. It's the connection with a top lender and having all the essential details that truly counts. That's exactly what we've shared in this article.
Let us find your ideal DSCR lender for your Wisconsin investment, making your experience seamless.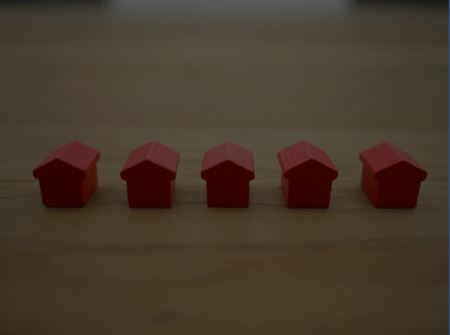 Compare Rates from Best DSCR Lenders
Get pre-qualified for Investor Cash Flow Mortgage based on potential rental income
FAQs
Can anyone get a DSCR loan in Wisconsin?

As long as your investment property's cash flow can cover the mortgage, you're eligible for a DSCR loan. Just remember to have a credit score of 620 and be prepared for a down payment of 20% to 25%.

What is the minimum DSCR ratio required for a DSCR loan?

To get qualified, target a DSCR ratio of 1 or higher. The higher your ratio, the easier it is to secure your loan. And a beefier ratio means more cash flow, boosting your financial security.

How long does it take to get approved for a DSCR loan in Wisconsin?

The approval process for a DSCR loan can take several weeks to months, depending on the lender and your specific case. Factors like document submission, lender evaluation, and property assessments can influence the timeline.

Can I get a DSCR loan with a low credit score?

Ideally, lenders prefer a credit score of 620 or higher. However, if your score falls below that mark, you can try discussing your situation with them to see if they're willing to work with you and tailor specific requirements to your circumstances.

What is the role of property appraisal in the loan process?

Property appraisal helps determine the property's market value, influencing the loan amount you can secure.

What is a rent schedule form, and why is it important?

A rent schedule form outlines expected rental income, which is crucial for assessing the property's cash flow potential.

Does the debt-to-income ratio play a role in DSCR loans?

Actually, when it comes to DSCR loans, your personal debt-to-income ratio doesn't really matter to lenders. They're not concerned about your personal income or job history; their main focus is solely on the cash flow generated by the property and its ability to cover your monthly mortgage payment.